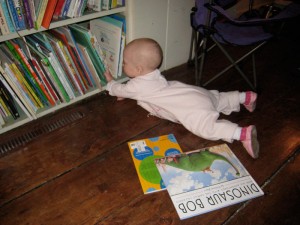 Mommy is "alibraphobic", which is a fear of not having enough books to read.  It's reflected in the fact that even though none of the children yet know how to read, we have hundreds of children's books.
After a while, it becomes obvious which ones the children enjoy hearing and which ones the adults like to read.  The same ones the boys enjoyed years ago are preferred by The Princess today as well.  Some books are just better than others and the kids always go back to them.
Know someone who just had a baby?  Get them started with quality books.  Pass on the generic books with faces of babies and whatnot and get them something they'll want to read for years to come.  You can't go wrong with a gift of books for a child.  Our Favorites are below.

It's not a coincidence that many of these have been around for 30+ years and are still popular.  Click on any of the images to order any of the books below from www.Amazon.com:
---
Truly a classic, The Very Hungry Caterpillar by Eric Carle was originally published in 1969.The story has been translated into over 50 languages and, as of 2005, a copy is sold roughly every 57 seconds.  Why has it been translated into 50 languages and sells a copy a minute?
Because it's GOOD.  It's fun to read from an adults perspective and the kids love reading along.  I certainly don't want to spoil it, but as you might guess, it's the story of a gluttonous caterpillar who over extends his stomach capacity and lives to tell about it.  It's about 225 words, so it's a quick read.
---
Another classic, this one is a long read, but boy is it worth it.  The story goes that Theodor  "Dr. Seuss" Geisel responded to a challenge to write a better reading primer than the boring and insipid "Dick and Jane" books of the day.  His publisher provided a list of 400 words that kids learn in elementary reading and he used only those words to create a story.  The words "cat" and "hat" were the first he found that rhymed, and thus the famous cat was born.  This is another story that is just fun to read to a child.  The rhyme and meter allows for the story to flow off the tounge and is a great one to start older kids reading with.
---
Note, this books is a tiny bit scary.  There are picture of monsters.  Some of the monsters are scary looking.  Some children won't understand the story and will just think the monsters are scary.  Do not buy this book for a sensitive child.  You have been warned.
That being said, it's a great book.  Exactly ten sentences long, Maurice Sendak tells a full story of a naughty child's imagination run wild.  The story has a very surreal dream like quality to it and leaves the reader feeling as if they embarked on a long dangerous journey and returned safely.
---
All the pictures in this entire book are purple line drawings, yet the detail that comes across is great.  It's the story of a small boy who goes on an adventure using just his imagination and a purple crayon.  Is it real?  Is it all in his head?  It's impossible to say, but it's another great story that has stood the test of time.  I remember being read this as a child and my kids love it as well.  It's a fairly long story for bedtime, with lots of pictures that need to be studied, so settle in for a bit.
---
Charlie has this little sister Lola.  She is small and very funny.  The story of a young girl going on her first day of school and the big brother who watches over here, the Charlie and Lola books fit into the Charlie Brown vein of "Where the heck are those kids parents at anyway?"  Lola is afraid to start her first day at school, and her older brother Charlie uses some great argument techniques to get her interested in going.
Author Lauren Child has a way of using fabric patterns as backgrounds that make every picture in the book a gem and the details in the story are what make it great.  This is a frequent bedtime pick of both Rainbow and Speedy.
---
Stay turned for Our Favorite Toddler Books, volume Two, for more great book ideas for kids.
Related Toy Reviews: