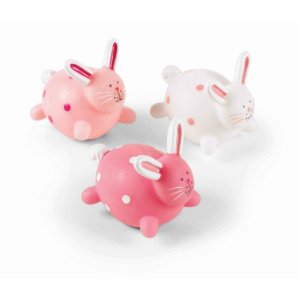 Looking for a little something for the Easter baskets, but can't find anything appropriate for babies and toddlers? Most of the Easter toys you see everywhere this time of year in the drug stores and supermarkets is for ages three and up. But what to give to the littlest ones? They need Easter fun too! I love the little Mud Pie Baby Eieio Little Squirts Bath Toys. They come in a package of three and are perfect for Easter basket and bath time fun.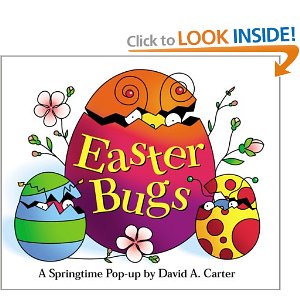 The pop-up book Easter Bugs by David A. Carter will be a big hit – The book is small enough to fit in a basket and features various adorable bugs hiding in Easter eggs. Kids can open the eggs to find the bugs, each with a different color and texture.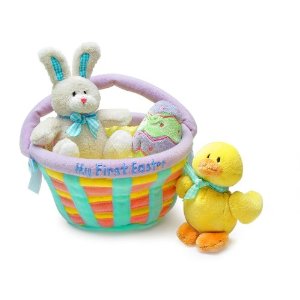 And finally, if you have a baby too young for candy but you still want to get them a little something cute from the Easter Bunny, I love this Baby Gund My First Easter Basket. Suitable for newborns, even, it is a soft plush basket with a soft plush bunny and chick. I love toys like this because they are great for babies and I bet you anything that toddlers will still play with it, loading it up with treasures long after Easter is over.
Related Toy Reviews: