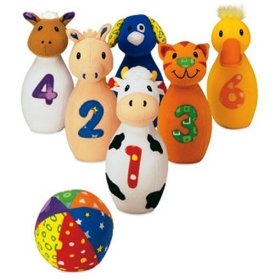 A friend gave this International Playthings Friends Bowling Set to The Princess last Christmas, and it has been a favorite toy for all the kids. When The Princess plays with it by herself she is all about taking the pins out of their case and putting them in again. She also likes carrying the case around and saying "Bye!" (Because that is what people do, they pick up bags, say "bye" and go places). But when the brothers get involved it becomes much more like bowling. They set up the pins and throw the ball, and then the Princess runs over and knocks them down. A good time is had by all.
Thes Sigikid Baby Bowling Sets are cute too:
And for older kids who aren't lucky enough to have little sisters to set up pins for, I suggest this Haba Bowling Ball Track set: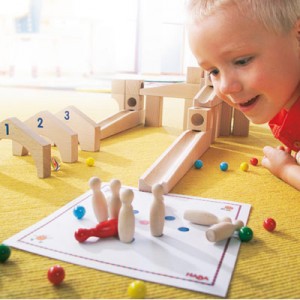 It is a marble track and a bowling game in one. Perfect for kids who love the setting up and getting all the pieces just right and for the kids who just love knocking things down.
Related Toy Reviews: