Blocks are such a basic toy that I think they get overlooked. But they are, in my humble opinion, the most versatile toy there is and crucial for proper development. If there was a law passes that every baby came home from the hospital with one toy, I would vote for that toy to be blocks. We have a huge basket of wooden blocks and they are, at this very moment, being used as a castle for a couple of princesses and a mermaid. Even in a house with two one year olds and a four year old they get played with all the time.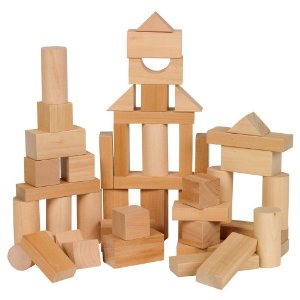 I do love a good set of plain blocks like the Bag O'Blocks seen above by Ryan's Room. However, I am awfully tempted by pretty things and there are some lovely sets of blocks.
This 25 piece set of Organeco extra-large, lightweight blocks are just lovely. They are made of bamboo (hence the lightweight part), the artwork is done in water based inks sealed with beeswax. You couldn't ask for a more lovely or eco-friendly toy.
Haba, one of my favorite toy companies, can be relied upon for lovely block sets. To name just a few there is the Haba fantasy blocks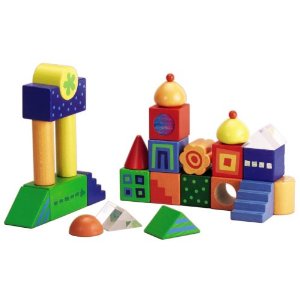 The Haba eeny meeny miny zoo blocks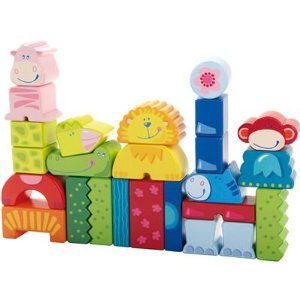 And the Haba fantasy land building blocks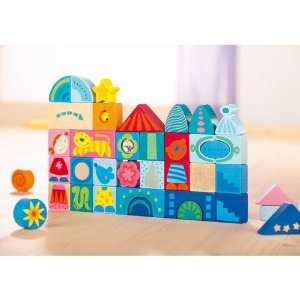 And for a classic alphabet blocks set, there is nothing prettier than this French alphabet block set by Uncle Goose.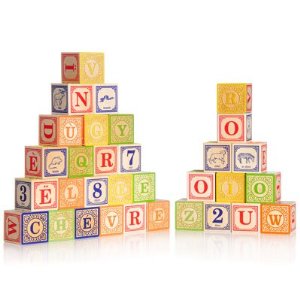 They are handmade in Michigan from solid basswood. There are 32 blocks in the set and they include all letters, numbers and 32 different animals and their named in french. Perfect for introducing a little french to your little one. Or for building princess castles, whichever.
Related Toy Reviews: