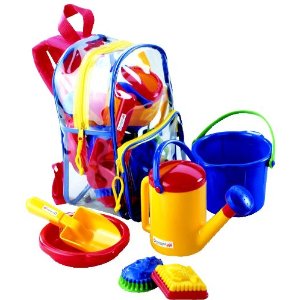 Tired of all those cheap beach toys that break the first week of summer? I long ago decided that when it comes to sand toys, quality is more important than quantity. I have since found that a lighter beach toy bag (that can be easily carried by each kid) is a great thing too. My favorite high-quality beach toys are made by Spielstabil. Their sand play backpack set is really everything any child needs for playing at the beach or in the sand box. And it comes in it's own handy dandy backpack – making it easy for kids to carry on their own (because don't you have enough to carry?).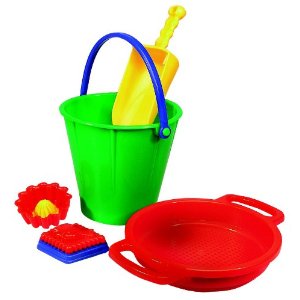 If you are looking for something smaller, the above Spielstabil sand play set is perfect. It comes in its own tote bag, again perfectly sized to be carried by your child. Can you tell I am tired of carrying everyone else's sand toys to the beach?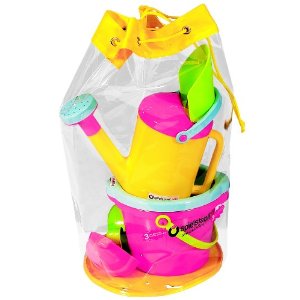 Need something pink? Well, they have this Spielstabil frog set (not really sure why it is called that, there don't seem to be any frogs involved), also contained in it's own tote bag.
The Spielstabil toys are made of a super strong plastic, they toys we have from them have lasted for years without breaking. Not so much our cheapo beach toys we have gotten from random discount stores. This summer I finally threw out all the broken and cracked beach toys and we have been so much happier with fewer, but better quality toys.
Related Toy Reviews: