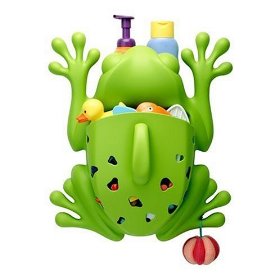 We love bath toys, and we love to give other people bath toys. I have a bit of a list of Really Great bathtub toys, but before sharing them I thought I would point you in the direction of a great bath tub toy solution. Enter the Frog Pod by Boon.
You can scoop the toys out of the bath water thus: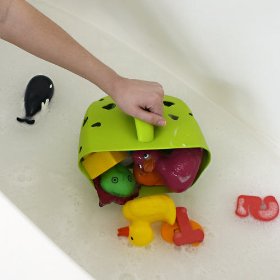 And then just click them in the holder.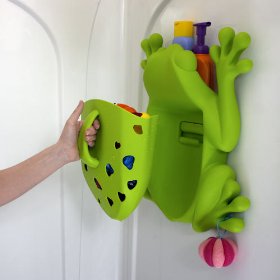 Genius! I tell you this as someone whose tub toy storage solutions always seem to result in moldy plastic buckets with toys spilling out of them.
This nifty little gadget is a great idea for a baby present. It is the first tub spout protector that we have had that really stays on, and its bubble bath dispenser is a big fan favorite. Its spout makes a waterfall which my boys are always trying to redirect with washcloths and toys.
Related Toy Reviews: