This is my idea for a theme gift, inspired by the two greatest hippo books ever written. (This honor is based on an inspection of our family book shelves rather than an exhaustive literature search). I give you two Sandra Boynton classics:
Hippos Go Berserk and But Not The Hippopotamus have been read on practically a daily basis chez Toy Reporter for about 5 years. Sure there may have been a week here or there when they were left on the shelf, but that is more than made up for by the days they have been read 10 or 15 times in succession. I have already read Hippos Go Berserk twice today. They are both rollicking tales of snuggly looking animals having fun. They both have bittersweet endings of the sort rare in board books, (but don't worry, they aren't so bittersweet as to bum anyone out – except maybe the armadillo, but I don't want to give away the ending).
And some toy options to complete the theme gift:
I love this little guy: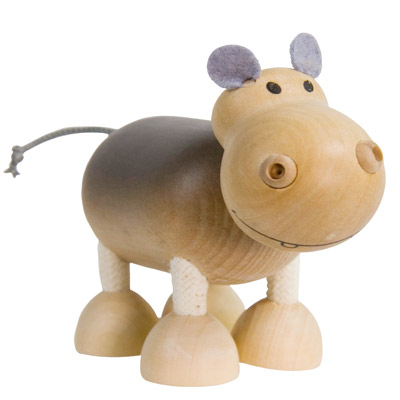 So cute, and little ones love little animals they can hold easily in their hands. The Princess had a little goat similar to this guy and because she carried it around so much, (and we were always saying "is that your goat?"), goat was one of her first words.
Pull toys are always a good gift, and isn't this hippo just fabulous? He looks ready to join the fun at the Hippo Party in Hippos Go Berserk.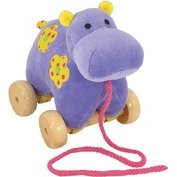 I think having a theme to a gift always makes me look more organized than I really am. So think "But yes, the Hippopotamus!" (Oops, I think I just gave away the ending).
Related Toy Reviews: