We have been getting a lot of rain around here lately, making the beginning of summer a little soggy for our liking. Although we are not opposed to going outside and playing in the rain, sometimes you just have to find things to do inside, and for us that often included board games. The two year old Princess is a liability here, so I usually try to find some game pieces she can play with to keep her from wrecking the board.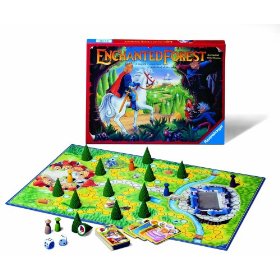 Enchanted Castle is great for a variety of ages. It can be played cooperatiely (with players sharing what they learn about the treasures – we aren't good at secrets, so this is how we play) or competitively with everyone turning over trees and remembering on their own what is underneath. The object is to see what is under the trees, find the three treasures and then get your game piece to the castle to claim them. It is fun, teaches strategy and memory skills and doesn't take all afternoon to play.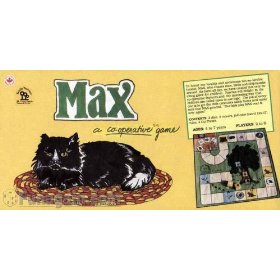 We also really love Max the Cat, it is great for younger kids too. We have been playing it since the boys were 3. The object is to work together to get all the little animals safely to the tree before Max the cat comes to eat them. If Max gets too close you can call him back home with a kitty treat. It is fun, also doesn't take all afternoon to play and exciting to let Max get close and then call him away. My kids like rescuing the little animals, although I suspect Speedy of having more sympathy for the cat.
Related Toy Reviews: