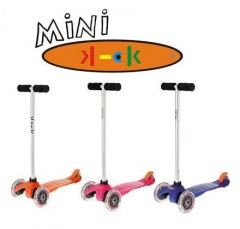 TWO free kids scooters?  What about a free toddler scooter?  How about three instead?  Giving them away?  What's that you say?
Do we have your attention now?  That's right dear readers, our friends over at Kickboardusa.com saw our Mini Kick and Maxi Kick Scooter reviews and have given The Toy Report FIVE Kick scooters to give away to five lucky readers   FIVE!  One of these premium kids scooters could be yours!
We have THREE Mini Kicks and TWO Maxi Kicks to give away.  That's a lot of scooter power!  One each of the Blue, Pink and Orange Mini Kick Scooters, and one each of the Black and Purple Maxi Kicks Scooters.  These are easily the best kids scooters on the market today, and we're very grateful to Kickboardusa.com for giving us this chance to thank our readers!
There are three ways to enter:
NOTE: The contest is now over and winners have been officially announced!  Thanks to everyone who entered!
Each counts as ONE entry to the giveaway, so you can actually enter THREE times if you do all three of the above, thereby greatly increasing your chances of getting one of the five free kids scooters!
We'll pick five winners in order at random from all the entries at 11:59:59pm June 30th, 2009 and contact them via email, Twitter, or their site sometime in the next week to arrange shipping.  Two Grand Prize winners get Maxi Kicks, three First Prize winners get Mini Kicks.  Since Massachusetts has strict rules about giveaways and sweepstakes, we like to cover our you know whatsits.  Giveaway open to residents of the United States only.  See this page for the official rules.
Related Toy Reviews: