The boys recently had their 7th birthday party and received a bunch of cool gifts from their friends. Their birthday party was on Sunday afternoon and they found it very difficult to go back to school on Monday morning rather than stay home and play with all their new toys and games.
Many of the gifts were really great classic toys that it was really fun to see them get excited about and play with. We received two Shrinky Dink sets and it's neat to see how they still retain their old toy style while adding a couple new twists to make them more interesting.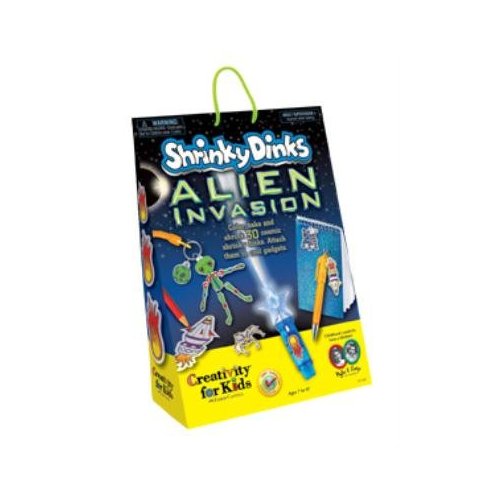 One set was this Alien Invasion set, which comes with a bunch of different space and alien themed "Dinks" as well as accessories to decorate with your Shrinky Dink creations. A fiber optic LED flashlight with rotating colored lights, a keychain, and a secret notebook are a couple of accessories that came with this one.
The other one was this Cool Gear Shrinky Dinks set which comes with a number of different keychains, clips and necklaces, as well as some totally random pictures to color in.
And then of course there is the shrinking, which is the best part of Shrinky Dinks isn't it?
Related Toy Reviews: