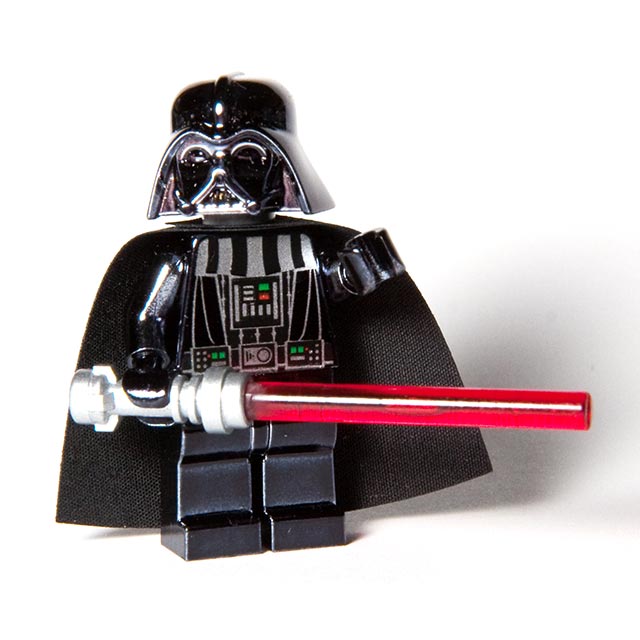 Having twin seven year old boys means getting two chances for at least one of them to share your interests, and in my case I seem to be doubly lucky.   Of course, some things really are more or less sure bets.  The chances that any seven year old boy would love both Star Wars and Lego's is remarkably high, as seen by the popularity of both franchises, as well as the juggernaut that is the Lego Star Wars line.
It's almost as if last years Clone Wars cartoon was invented simply as a vehicle to deliver more variety to the Star Wars Lego kit line and rake in even more cash.
So it's not shocking that for Christmas this year, both boys wanted little outside of Lego Star wars sets.  I think all told, Santa brought them each two larger sets, and the combined Grandparents brought them each two sets, for a grand total of 8 Star Wars Lego sets.  I think there were only five different sets though, since most of them were doubles, one for each twin.  Our Lego storage system is reaching the breaking point, but the sets keep coming.
Now despite being twins (they're fraternal), the boys are remarkably different in many ways.  Speedy is an engineer.  He can do Lego sets more advanced than his age, and chews through them in a matter of hours.  Rainbow is a social butterfly, he makes friends and can speak his mind far better than any other kids his age, but his building skills aren't quite as advanced as Speedy's.  He does a great job and having just turned seven can do 7-12 year old sets with little or no help, and even do the 8-14 year old sets with minimal help.  It's just that Speedy mad skillz as a makes him appear slow.  Rainbow also seems to have a lucky streak.  Things just seem to go his way more than you would expect, which might be due to his conversation skills more than anything else.
When Rainbow opened his Mace Windu Republic Attack Shuttle Set and had an extra bag that Speedy didn't have in his set, we were a little surprised.  At closer inspection it appeared to be a Darth Vader Mini Fig all in one bag, which is unusual for sets of this size.  Most of the time the head is in one bag, the legs another, and the body another.  No idea why they do that, but must be something to do with quality control.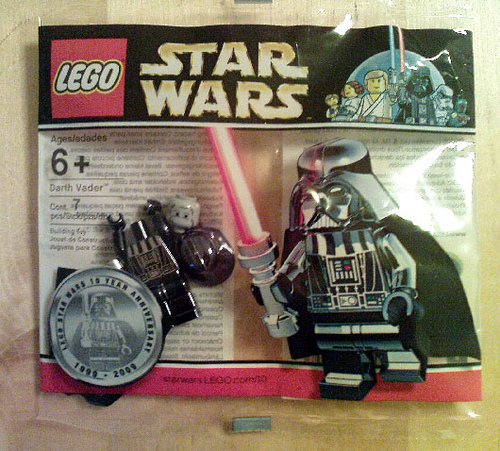 We have a couple of Lego Darth Vaders around the house from the Darth Vader Tie Fighter set, but neither of them were as good looking as this one.  It appeared to be powder coated in dark chrome.  What was also odd was that Darth Vader had no business hanging out aboard a Mace Windu Attack Shuttle, considering that Anakin killed him in the third Clone Wars movie, long before Darth Vader existed.
Off to the internet to discover that Rainbow was the lucky winner of a limited edition chrome Darth Vader minifig.  Only 10,000 were made, some given out as prizes at toy fairs, and the rest distributed randomly throughout the Star Wars Lego product line during 2009.  Those are long odds, considering that on average 7 Lego sets are sold every SECOND around the world, and that Star Wars is one of their most popular lines.
Speedy was remarkably easy about the fact that his brother received a special free limited edition mini-fig, saying he didn't really want one and was happy for his brother to get one.
As for Rainbow, he was given a choice.  Open the special silver Lego Darth Vader minifig and play with it, keep it in the bag and save it as a collectible, or put it up on eBay and get $30 to buy another whole Lego set with.
He's 7.  He opened it, played with it for a few hours, then added it to the minifig jumble. I was never a MIB (Mint In Box) person myself either.
Want a Chrome Darth Vader of your own?  Buy one now, don't wait.  Lego apparently handed out a limited number of these at the 2010 New York Toy Fair so prices on the collectors market are fairly low right now. They are in the $20-$30 range. Compare that with the $100+ you'll pay now for the Limited Edition Gold C3P0 from three years ago.
Click here to check prices on the limited edition Darth Vader minifig.
Related Toy Reviews: