It's Christmas Eve and as a tradition in our house, we'll have an afternoon dinner feast with friends and family at our house, then go to our local meeting house to sing Christmas carols, then back home for a marathon reading of our favorite Christmas books for children.
Here is a list of some of our favorite kids Christmas books here at Chez Toy Report:
The Night Before Christmas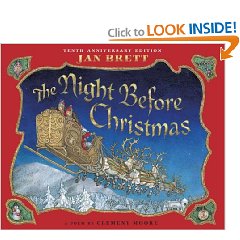 Yes, the classics are still the best.  This edition of Clement Moore Christmas book classic is beautifully illustrated by Jan Brett in a way that really brings the story to life.  I'm not going to insult you by describing the plot of The Night Before Christmas, as it's pretty much a cultural institution, but if you're new to the US and have no idea what I'm talking about here, go buy the book.  Click here to see more about The Night Before Christmas.
Olive, the Other Reindeer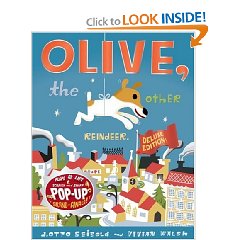 This is another Christmas classic in our house, and was made into a TV special staring Drew Barrymore and featuring Michael Stipe from REM.  But the original Christmas book for kids is a great read.  It's about a dog named Olive who thinks she needs to save Christmas based on the classic Rudolph the Red Nosed Reindeer song about "All of the other Reindeer" which she hears as "Olive the other Reindeer" and attempts to reach the North Pole to help out St. Nick.  Click here to see more about Olive, The Other Reindeer
Most Commented Posts