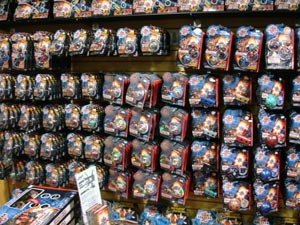 We get large numbers of visitors from various search engines looking for Bakugan information here at The Toy Report and looking through the logs we've been getting a lot of hits for people searching for terms like like "bakugan recall" and "recalled bakugan"
First off, no, there has not been a recall of any Bakugan toys that we are aware of.  We checked the CSPC recall site and the Spin Master site and nothing has been recalled from the Bakugan line.  Of course, Spin Master were the fine people behind the great Aqua Dot recall of 2007, but their Bakugan line has been rock solid.
Note, Bakugan Toys are NOT intended for children under 3 year of age in any way shape or form!  The Series 1 Bakugan Battle Brawlers are pretty much exactly toddler throat sized.  The Series 2 Bakugan are larger making them much harder to swallow, which likely had a great deal to do with the redesign.  They are clearly marked as not for young children on the box.  I would strongly suggest extreme Bakugan Battle Brawler control measures if you have a child under 3 in your household, including avoiding them altogether.
Bakugan Toys Fever Strikes Fast.
So no, your local store shelves are not empty because of a Bakugan recall.  They are empty due to the Bakugan Toy Fever gripping your area.
It happens every day, in cities and towns all over the country,  what we like to call "Bakugan Toys Fever" sweeps through like the flu.  All it takes is one kid who goes to visit a far off cousin or friend who has been exposed.  Unlike the flu, this fever is contagious for long long long after the major symptoms are gone.  Here is how it works:
Travelling pre-tween boy (or girl for that matter) is exposed to Bakugan toys by a friend.  Lets call him Jacob since it's the #1 boys name in the US, from 1999 to the present.  Bakugan seems to be mainly a 6-10 year old phenomonon.

Jacob returns home and begs his parents to get him some Bakugan.  They go down to their local Target or ToysRUs and buy a Bakugan Battle Pack or Bakugan Starter pack.
Jacob then exposes 10 friends at school to Bakugan, they beg their parents for Bakugan who go down to the local store and buy more Bakugan.
Those 10 friends expose another 10 friends, and suddenly in the space of a few days there are hundreds of tween kids in an area whose parents are hunting for Bakugan toys.
Since most stores only carry around 10-20 Bakugan Battle Packs or Bakugan Starter Packs at any one time, the store shelves look like this: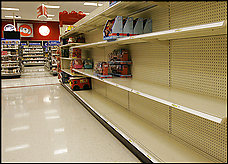 My Local Store Is Sold Out!
Your best bet for finding Bakugan in stock at a good price continues to be at Amazon.  At least until they've run through all the overstock they appear to have recieved the week before Christmas.
The Bakugan Battle Pack is $25.99, and it qualifies for Amazon's free shipping.   This is all you need for two people to play Bakugan.
The Bakugan Starter Pack is on sale for $9.95, well below the MSRP and ToysRUs price of $13.99.  You need at least two of these to play.
The single Bakugan Booster Packs are $5.71.
Related Toy Reviews: