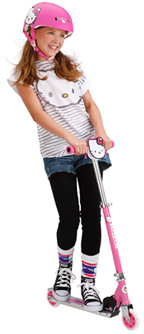 Razor Inc. announced recently that they would be offering a Hello Kitty Scooter available this Christmas season in the US at some retailers.
This is not the first Hello Kitty scooter on the market, with a generic "Hello Kitty Folding Alloy Scooter" page still up at Amazon.com and a number of mentions for it on various sites around the web, but no where I could find with any still for sale.
The Hello Kitty Razor Scooter represents Razor's first official licensed co-branding venture as a company and they announced plans to follow up the girls kick scooter with a couple of different electric versions for older girls. Which forces the question, is Hello Kitty a tween brand? I am forever shocked at the various demographics that gravitate towards Hello Kitty stuff and the staying power of the Japanese icon, from the 3-8 year old set to the 18-35 alternagirl set to the ever powerful gay adult male demographic. But does it survive and thrive in the 9-14 year old set that might be interested in an electric scooter for tooling around town?
In any event, if you are looking for a little girls scooter, something for the under 5 year old in your life, this one probably isn't a good buy. Most 3-4 year olds will end up hurting themselves on a traditional two wheeled scooter, pink and Hello Kitty not withstanding. Check out our article on Scooters For Young Kids here for our recommendation on the best choice.
Related Toy Reviews: