Well I say, hail to our new robotic hamster overlords!  Toy hamster overlords that is.
Unless you've been living in a box for the last month (or you don't have kids, or you don't let your kids watch TV at all ever) you've seen one of these commercials for the Zhu Zhu Pets toy hamsters and their must have hamster toy playsets. Check out them in action here:
Not to be confused with Zsa Zsa Gabor's little dogs, these little robot hamsters were originally called Go Go Pets it seems and then they changed the name to Zsu Zsu Pets. No official word from the company that we could find other than the new name sounded more fun. Maybe they did some market research and found that "Go Go" Pets made people think they pooped or something. So you will see some boxes still on the shelves marked as Go Go Pets and the company has said that they are fully compatible with the ones marked as Zhu Zhu Pets. Apparently nothing changed other than the name.
These little guys are overrunning American girls the same way Bakugan kicked little boys upside the head last christmas.  Woe be to the parent who can not find a complete Zsu Zsu pets set on Christmas Eve for little Princess.  Seriously, stock up now and hold on to them.  Zhu Zhu pets are going to be scarce this Christmas
What Are Zhu Zhu Pets?
So what are they? Little toy hamsters with wheels with a sensor on their nose that run around, bump into things, make cute noises, turn, run around, bump into something else, make cute noises, rinse, repeat. They go by names such as Mr. Squiggles, Pipsqueek, Num Nums, and of course the oversized Chunk the Hamster Toy.
Billed as less messy and time consuming than regular hamsters, the company certainly has caught the attention of the 5-10 year old American consumer.  And if you think I'm kidding on the power of the 5-10 year old American consumer, you must not have kids of your own.  Advertise a catchy kids toy on every single children television show every single day in the months leading up to Christmas and BAM!  Millions.  These little hamsters on wheels are a great crossover toy.  While certainly skewed a bit towards little girls, these cute little hamsters are appealing to boys as well.  Nothing like jumping a robot hamster in a little car off a little ramp.  But more on that later…
Of course, to make it really fun you also need to purchase the ZhuZhu Pets Hamster Funhouse, and the ZhuZhu Pets Adventure Ball, and the Zhu Zhu Pets Hamster House Starter Set. And what robot toys hamsters adventures could possibly be complete without a Hamster Wheel, Carrier and Blanket, and Garage with Hamster Car. You would want to make your toy hamster happy by having nothing but the best in robotic hamster luxuries right? Real hamsters have habitrails and wheels and hamstermobiles right?
Toy Hamster Cars?
That's right, I kid you not. These hamsters have their own little car. Check it out by clicking here: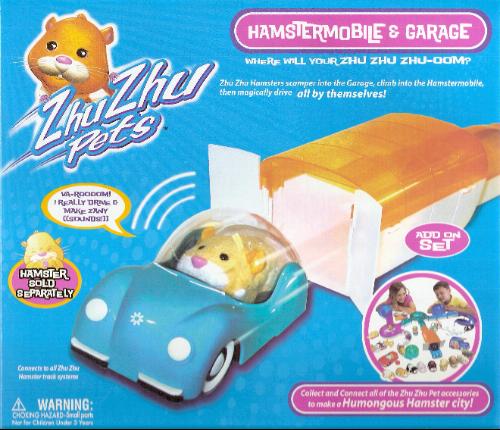 Note: The Zhu Zhu Pets are intended for ages 4 and up. They do have mechanical wheels and do potentially present a hair entanglement hazard, so grab little Betsy a hairnet before playing with the Zhu Zhu pets.
Related Toy Reviews: