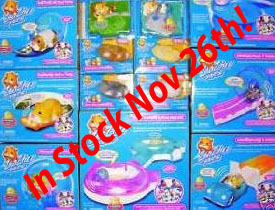 I know, I know, trying not to get too excited here.  But if you go to their page on Amazon, you can see an announcement saying that our good friend Squiggles the kids toy hamster will be actually in stock for retail price on November 26th!
What does this mean for you?  Not having to wait in lines at 5am in the cold rain to get the kids some Zhu Zhu Pet toys this Christmas, perhaps only to be turned away after they quickly run out?   Not having to break the bank and pay almost 10 times the retail price for a Zoo Zoo Pet?  Yeah, now we're talkin' huh?
What has been happening is that toy stores have begun stockpiling what few Zhu Zhu pets they have been shipped in order to offer them as door buster deals on Black Friday.  If you consider yourself a hard core shopper and plan to get up at 4:00am to stand in line at Toys R Us in the hopes of getting a Zhu Zhu Pets Black Friday deal, then heck, you go for it.  I for one will be sleeping in and using my laptop to do all my shopping from the warmth of my bedside.
Seriously, cross the one most in demand kids toys off your list early on Black Friday and buy your Zoo Zoo pets online before going to bed, or better yet, before heading out to the in store crazyness.  While everyone else is running to the Zoo Zoo Hamster toys section first thing, you can be off scoring the other bargains!
Here is what to do:
Click here to open the official Zhu Zhu pets list at Amazon.  Got it open?  Good.
Add it to your list of Favorite pages or just click here to add it to your Favorites/Bookmarks list.
Before going to bed on Thanksgiving, hit the bookmark, check if the toy hamsters are in stock.  Good chance you'll go to bed with a nice warm fuzzy feeling.
If not, wake up early, hit the bookmark again before heading out to look for Black Friday Zhu Zhu Pets.
Check back again through out the day.  They will be releasing more stock as the day goes on so keep checking.
Related Toy Reviews: