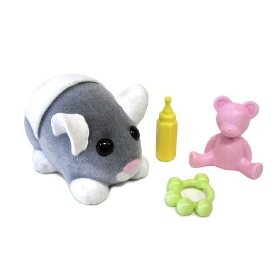 We have a couple of Zhu Zhu Hamsters that freely roam the living room area on a regular basis.  The dog has learned to ignore them as they roll around the room bumping into things or getting stuck under the couch.
The kids still get a kick out of them though, occasionally building little mazes or houses for them out of cardboard boxes.  The fun of the toys remains the sounds that they make as well as the freedom of movement they enjoy as they maneuver around floor obstacles.
Enter the Zhu Zhu Baby Hamster line, at first glance a smaller and cuter version of the extremely popular Zhu Zhu Pets electronic toys.  At second glance, they offer far less that you would expect, so be careful.  As long as you know what you are getting into, these might still be good toys for your youngster.
Zhu Zhu Baby Hamsters – Are They Worth It?
First off, the Zhu Zhu Babies don't move on their own.  There are no batteries or electronic parts.  There is a small ball on the bottom much like an old school computer mouse that helps you push the baby hamster around.
Second, they are not plush.  They're made out of molded hard plastic.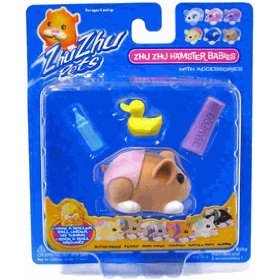 Third, they come with tiny little baby hamster toys, things like a little spoon, a little rubber bottle, or a tiny cradle, that have no use with the toy other than pretending.  There is no opening for the bottle or anything to feed with the spoon.  Note, the accessories are tiny and certainly choking hazards for children under 4, so keep these from the little ones.
That being said, it seems the main use for these Zhu Zhu Babies is as an add on for the real Zhu Zhu pet hamsters.  There is a Baby Zhu stroller that can actually be pushed by one of the real robot hamsters.  the rest is up to your child's imagination, which is certainly not a bad thing.
These seem to be Cepia's (the parent company behind the Zhu Zhus) response to the Littlest Pet Shop line of toys, but they have done a horrible job of advertising that these toys are neither fuzzy or robotic in any way shape or form, and thus many people have been very disappointed in what they thought was a smaller and even cuter version of the famous robot hamsters.
Know what you are getting into, and for around $6 you can have a nice little add on for your little Zhu Zhu pet lover.
Related Toy Reviews: