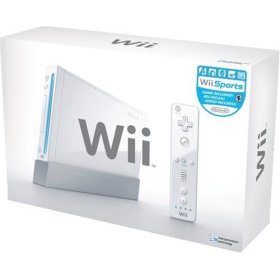 UPDATE:  Amazon is sold out of Wii's again.  Try a local retailer before Black Friday and they may still have some left in stock.  Looks like it's going to be a hard to find Wii Christmas again this year, recession or not.
——–
We just heard a report that stores have received a large shipment of Nintendo Wii consoles recently, including many online retailers. It's likely this represents their holiday season allotment in one delivery and once these are gone they might not get many more.
Nintendo has stated previously that they have ramped up production somewhat this year, but they still anticipate being unable to fulfill demand during the holiday season.
Is it a marketing ploy to say they expect them to sell out again?  Hard to say, but does it really matter?  If you have been planning on hunting for a Wii this holiday season, I'd suggest pulling the trigger now while they are in stock, as they certainly are not going to go on sale anywhere before the holidays.
Remember that like most other gaming consoles, the Wii only comes with one controller and one game (Wii Sports).  You'll certainly want to pick up at least one extra Wii Remote Controller (or just get Wii Play which comes with one remote and 13 games for about $10 more than the remote alone).
Also, I'd strongly suggest grabbing Wii Mario Cart, which is by far the most popular Wii game.
Don't say we didn't warn you if you are stuck searching eBay for an overpriced Wii come December 20th…
Most Commented Posts