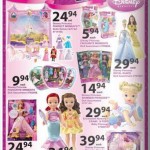 Last year it was Walmart that sparked a Christmas toy price war among the major retailers, basically causing places like KB Toys to go completely out of business as the struggled to match Walmart's "10 for $10″ promotion which priced a list of popular toys at the $10 level.
This year, they are taking it one step further by dropping prices on 100 toys to $10 each, again, mostly in order to get shoppers into their stores.  In the "biz" this is generally called a "loss leader", underpricing an item to the point where they actually take a loss on selling it to you at that price in the hopes that you'll buy other things while you are at the store.  And for the most part, it really works.  While you are at Walmart,  picking up a couple of ten dollar toys, they hope you'll also buy clothes, toothpaste, some milk, and the like.  And most people do.  That is why you will never find the $10 toys right at the front door, but instead at the total back side of the store, making you drag yourself past all the product displays.  Same for their online store, where they offer shipping discounts or free shipping if you go over a certain total cost.
Not to be outdone, Target has announced their own toy sale by knocking close to 50% off a large selection of toys.  Instead of offering $10 toys, they really went low, dropping a full sized Barbie doll down to $5 and other similar price cuts.
We tried to look for a similar announcement from Amazon as they did last year around this time, but only found a page that claimed it was a list of toys for $9.99 where almost ALL the toys on it were actually priced from $15-$35!  I suspect it's just a left over from last year, but a shrewd and unscrupulous consumer (you know who you are!) could buy some at the higher prices then try to force Amazon to honor the lower price stated on the page.
You can check out the stale Amazon toy list by clicking here.
Check out the list of 100 toys for $10 at Walmart by clicking here.
Related Toy Reviews: