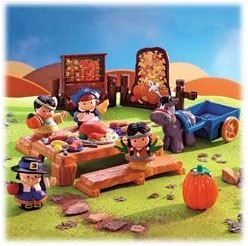 It's funny, but there are not a heck of a lot of Thanksgiving toys out there.  Most other holidays seem to spawn a whole slew of related toys or items to go along with it, but Thanksgiving mostly seems to be food related rather than toy related.
That being said, there are still some Thanksgiving kids toys out there if you were so inclined to try and "play Thanksgiving" sometime.
And so we present the Little People Thanksgiving Celebration – Pilgrims and Indian Friends playset.  That's right folks, no political correctness here, this is a good old fashioned Pilgrims and Indians set, not a European Colonist Invader and Native American playset.  You get pretty much what you would expect.  A couple of people in period Pilgrim attire, a couple of Natives complete with headbands, a table and a bunch of fake food for the feast.  Also comes with a giant person size pumpkin (I don't think genetic food engineering was invented yet) and a donkey and cart.  Not sure how many donkeys the Pilgrims arrived with and did not end up eating that first harsh winter, but heck, the set needed a little more variety I guess.

If you really want to spice it up a little, toss the Little People Mayflower set on top and you can have a complete Thanksgiving scene for your little ones to play with.  Happy Thanksgiving!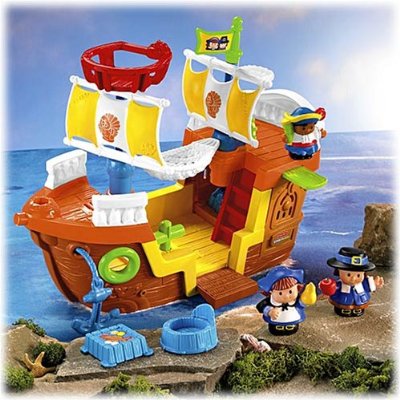 Most Commented Posts