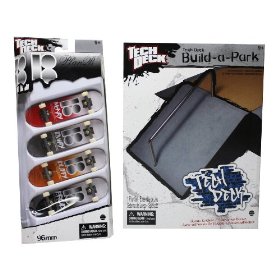 For those of you looking to get a Tech Deck finger skateboard set for the future or current skatepunks in your life, there is a great set that recently became available at a bargain price.
Most Tech Deck board sets are in the $12 range, and most of the Tech Deck ramps are in the $15-20 range.  So for a set of 4 boards and 1 ramp, you are typically looking at the $30 plus range.  Of course, this year budgets are especially tight and ever bit you can save goes a long way.  For those of you looking for a present for a nephew or niece or school friends birthday party, $30 is a little bit steep.
That's what makes this deal so great (click hear to see the deal for yourself).   For only $17.99 you get 4 boards, a set of stickers from the high end real skateboard company Plan B, a set of tools for changing and adjusting the trucks on the skateboards themselves (the trucks are the parts that hold the wheels on by the way) and a ramp with a grinding rail
What The Heck Are Tech Decks?
For those of you that have not heard of them before, Tech Decks are miniature-scale skateboards that are adjustable and maneuverable exactly like real skateboards.  You ride them with your fingers and attempt all the same tricks that the professional skateboarders do, like ollies and kickflips and 360s, all while riding on the top of the board with your fingers.
Note that this $17.99 deal might not be available for long.  I'm guessing that once they run out of them, the bundle price will no longer be available and you will have to piece together a similar set at a much higher price.
Check out some of the types of tricks below.  Honestly, they are far harder to do than they look.
Most Commented Posts