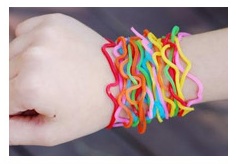 Wearing a wrist full of colored bands has finally returned!
It's always great to see an old fashion mainstay come back to be enjoyed by another generation. Being a guy I never owned leg warmers (my sister certainly did), I did have quite a Jams collection, as well as a pile of paisley ties.  I had a large drawer full of rubgy shirts and wore the collars up of course.  I never did get into the wearing a giant pile of rubber bands and bracelets up and down your arm but Mrs TR certainly did, as did many other teenagers of the 80s.
Well, Silly Bandz are all the rage with kids these days.  If these funny shaped rubber bands haven't caught on at your little one's camp or school or neighborhood, it soon will.
The Silly Bands are created by a company called Brain Child and they are the new hot toy collectible of the spring season.  What are they?  Well, they are simply rubber bands in fun shapes.  They retain they shape even after being used for a while, so they can keep your hair up or close a bag of chips for a while, then go back to their fun shapes.
Some of them are just colored, but some packs include glow in the dark and sparkle bands as well.
The other great thing?  They don't cost much!  A bag of 24 fun shaped rubber bands costs about $5-7, typically with free shipping, so they won't break the bank and make a great gift.
Click on any of the pictures below for more details and pricing on each set:
Of course, being rubber bands these are not for children under three.  If balled up, they can be a choking hazard for children under three, and should never be placed around necks, either your own or a pet!
Related Toy Reviews: