A while ago we reviewed the Melissa And Doug Easel and thought it was easily the best easel for the money.  (Get it?  Easily?  It's an Easel?  Come on, you thought it was at least a little funny).
At $42 with free shipping from Amazon, it's a steal for what you end up getting.  Well, now Amazon is offering the exact same easel for $47 dollars, with the difference that it arrives in frustration free packaging.
I don't know about you, but when being shipped an assembly required easel through the mail like this one, it's packed in there pretty well, without lots of annoying bubble packaging and hard to dislodge twist ties like you find on generic plastic toys from the local KMart or Target.  However, now you can buy the same easel from Amazon in their frustration free packaging for $5 more (normal price $42, frustration free for $47).
What do you get for that extra $5?  Amazon says everything is packed into recyclable packaging that looks like this: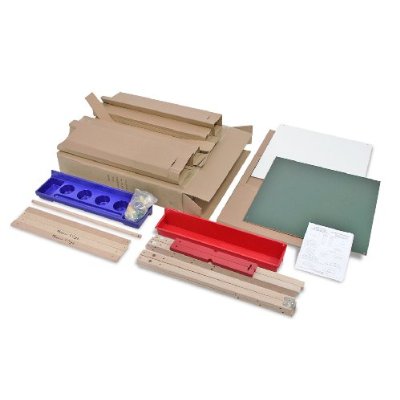 While I do think the "Frustration Free" packaging is an absolutely fabulous idea that deserves to be commended, I don't want to pay an extra 12% or more of the item cost for it, especially for "less" packaging.
And it appears that consumers feel the same way.  The Frustration free version of the Melissa and Doug Easel is ranked #5620 in the Toys and Games category as ranked by popularity.  The original Melissa & Doug Easel in the regular packaging for $5 less is listed as item #15 in the Toys and Games category.  Enough said.
Amazon, we love you and are frequent buyers, but pricing like this needs to stop.  Expecting customers to pay extra so that you and manufacturers can save money on packaging is just absurd.
Agree or disagree?  Leave a comment below!
Related Toy Reviews: