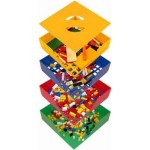 In my quest to find the best LEGO storage solutions, I came across this little gem, the Box4Blox.
The Box4Blox is made up of four stackable boxes each with ever widening holes in it to sort your LEGOs by size.  Just dump a mess of mixed up LEGOs in the top, shake and viola!  The smallest bricks fall to the bottom, leaving the largest ones at the top.
The general consensus is that it's a great way to sort and store a small collection of LEGOs, but isn't really big enough for those with larger collections.  The full box holds around 1500-1700 bricks, which means it could hold and sort a little more than one Lego Hogwarts Castle to give you some idea of the size.  In order to store our Lego collection that's currently disassembled, we'd need at least 10 of these boxes.  Yes, I know, we have too many LEGOs, but with twin boys both obsessed with LEGOs, it quickly gets out of hand.
However, I am considering getting one Box4Blox just for the sorting factor.  It would be much easier to find them in the LEGO storage bins if they were already sorted by size as well as color.
Click here for more info about the Box4Blox
Related Toy Reviews: