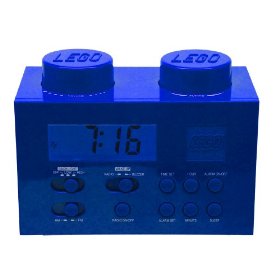 If you have a kid that loves Legos as much as ours do, then this is probably the alarm clock for them.  The Lego Alarm Clock apparently comes in different colors, with variations in Green, Red, Pink, and Blue.  Most retailers appear to be sold out of all but one of the various colors of the Lego Alarm Clock, and even the manufacturers web site appears to be out of stock on them as well.  The Blue Lego alarm clock is currently on sale here for 20% off the retail price and was in stock at the time of this writing.
We have a natural alarm clock in our house named The Princess.  This perky two and a half year old is better than any alarm clock, waking up in a bolt of lighting like, well, clockwork every morning at 6:30am.  She generally gives us all plenty of time to get ready for school or work or not sleep in on a Saturday morning.  Very likely this is something she will eventually grow out of, as the boys used to have the same skill/problem but now tend to want to stay asleep most mornings.  And since in 1st grade it is more important to be on time, we need to get them some alarm clocks of their own pretty soon.
Being almost seven, the boys have an obsession for all things Lego and thus when searching for alarm clock radios found these Lego ones.  Apparently they are exactly 10 times the size of a real Lego Brick and can be stacked with other Lego electronic devices made by by the manufacturer Digital Blue.  Too big to use with the pieces of the Lego Advent Calendar, but perfect for the Lego Boombox.  These are not knockoffs either, being fully sanctioned and licensed Lego products.
The only problem is, pretty much everywhere we looked is sold out of the various colors!  We could only find the Blue Lego Alarm Clock in stock by clicking here.  On the other hand, the Green Lego Alarm Clock and Pink Lego Alarm Clock we could only find in stock by clicking here.
Both have free shipping luckily, but a pain if you want one blue and one pink to order from two different places.  Check back as the holidays approach as I would bet they will come into stock.
Related Toy Reviews: