Ok, here you are at the last minute looking for a Lego Advent Calendar and you can't find one for less than $60 now can you?  Well, you can't say that we didn't warn you because we did.
Maybe you did not see it because it's your first time here or something, but in our kids toys post almost two months ago about the 2009 Lego Advent Calendar, we noted how these things are sold out every year by December 1st.
This year they were pretty much gone everywhere by noon on Black Friday.  Now the only places that have them available are 3rd party Amazon price gougers and eBay, all selling for $60-$70, and that with regular shipping so you will not get it until Advent is half over.
Hate to say I told you so, but, ummmmm, well, I told you so.  Maybe next year you will listen to your friends here at The Toy Report and save yourself a big old pile of cash.  Here is what you are looking at today if you search for Lego Advent Calendars
Lego.com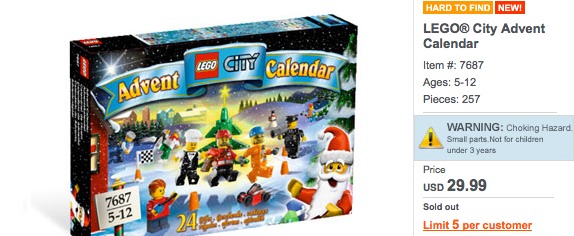 Ebay
Amazon
At this point, save your Lego Advent Calendar money until next year.  Instead, run down to Trader Joe's and pick up a chocolate Advent Calendar instead for $0.99.  Twenty four days of little holiday chocolates for less than a dollar.  If you do not have a Trader Joe's near you, some enterprising soul is selling them on eBay for $6.50, including shipping.
Related Toy Reviews: