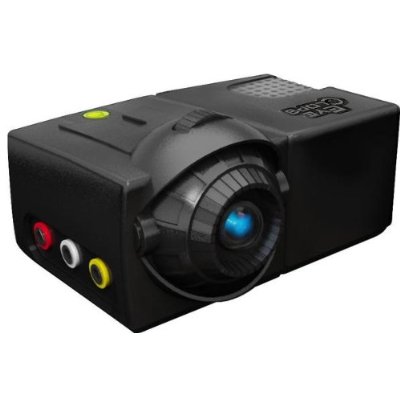 Wait a sec. A kids video projector that projects up to 60 inches across for less than $80? Made by Eyeclops, the creators of the popular night vision goggles for kids as well as various kids digital microscopes, this little mini projector is both tiny and cheap. As long as you set your expectations correctly, you will not be disappointed.
This little guy weighs less than one pound and measures 2×3.5×2.5 INCHES, small enough for most kids to hold in their hands and smaller than most hardcover books. It's so small that it actually comes with it's own special projection stand that doubles as it's battery pack so you can keep it steady on a table or floor.
Now look, be real with yourself here and set your expectations correctly on this one.  It's a toy projector, and a good one at that.  Don't expect theater quality projection or a regular tv screen type of resolution here.  The cheapest mini digital projectors are in the $250-$800 range and still only have resolutions of 480×320 at the low end or 860×600 at the high end. For $79 what do you get? A kids projector, one that has a resolution of 320×240, puts out 8 lumens, and gives you 10 hours of playtime off 4 D batteries. Compare that to the Optima Pico Projector at around $230 which kicks out 10 lumens at 480×320 and gives 60-90 minutes on a rechargeable battery only. Note, with the lumen level of either the Eyeclops or the Optima, it's going to be hard to see unless the room is dark. No stray light.
What does this all mean to you? Picture a traditional SD broadcast of your favorite show or movie (resolution of 640×480), then cut the resolution basically in half. Also, no afternoon viewing with the windows half open, this projector for kids really needs a dark room or outdoors at night. Will you enjoy watching an eye candy action movie like Transformers or a top graphics game like Halo in the middle of the day on it? Probably not. Will you enjoy watching cartoons in the back yard, or projected on the ceiling in a bedroom or playing Playstation 2 games while camping at night? Heck yeah! So set your expectations accordingly, or step up to a real mini projector at almost 10 TIMES THE PRICE and get the Benq GP DLP instead.
Note, the $79 price might be a limited time special, as this kids projector typically sells for $99-$129 at various places.  If you were thinking of picking one up for the holiday season this year, now is certainly the time to do it.  Click here to see the latest price on the EyeClops Mini Projector.
Most Commented Posts