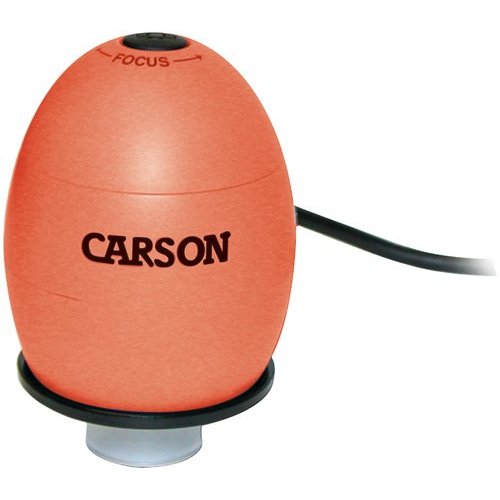 Wow, if you are in the market for kids microscopes, we have a great one for you.  And if you are in the market for a great educational gift, look no further! The zOrb Digital Microscope from Carson Optical is really cool.
When I was a boy, I had a friend who always seemed to have the coolest toys, far better than the other kids on the block.  He was the first to get a ColecoVision, and he had a Spiderman wrist action web shooter that actually launched sticky goo a couple of feet. I found out later that his parents were getting a divorce and his father kept sending him all sorts of the best toys, probably more to anger his ex-wife off than anything else.
One day while playing at his house the mailman delivered a box that contained a real kids science microscope!  It was actually a kids microscope set, which meant it came with a small number of slides with things printed on them.  Not actual things to look at mind you, but cruddy prints of things that basically looked like a bunch of ink dots when you put them under the microscope.  We quickly became bored with the slides that were nothing but ink prints of cells and such, so we started putting anything we could fit under the microscope.  The biggest problem was that our ability was limited by the size of the area under the scope.  You had to put the object between to glass slides to fit it between the tray and the lens, but that didn't stop us from putting leaves, tiny ants, and some salt under there to see what they looked like.  It was a children's microscope, certainly not for any real scientific study, but it was still tons of fun.
That was sometime in the 80s.  Flash forward to today and have microscopes for kids come a long way!  No more being restricted to objects that can fit on a thin slide, now you can easily attach a movable microscope directly to your computer over USB.
We got a Carson Optical zOrb last week and have been having tons of fun putting stuff under it and looking at it on the computer screen.  It says it has a 35x magnification when using a 14″ monitor.  I don't feel like doing the math to figure out what the magnification is when using it with out 24″ iMac, but it's certainly larger than 35x.  It was super super easy to setup on our Mac.  It came with one of those little tiny mini CD's with the driver software that you can not put into a Mac without an adapter to make it think it's a large CD, but no worries.  I just headed over to the Carson Optical website and downloaded the drivers.  A couple of clicks and one super easy to plug in USB cable later and we were microscoping anything we could get our hands on (Is microscoping a word?)
Oh, did I mention that it's also a digital microscope camera, able to take both still pictures and digital video of the object you are magnifying?  There is a single button on the top for snapping an image, and you rotate the top part of the orb to focus it.  There are 4 LED lights surrounding the camera area that make for some very clear images, once you wait a second or two for the auto brightness to adjust
This is not your fathers toy microscope either.  It's well constructed, the focus mechanism is very smooth yet resistive enough to allow for fine adjustments without going out of focus with a normal touch and it takes some great pictures.
Below are a three of the many shots we took with it.  See if you can guess what any of them are in the comments below, and we'll post the answers sometime next week.
Most Commented Posts