Well, summer might not be officially over just yet, but it's close.  And living in a temperate climate such as we do, short winter days and long winter nights can drive both parents and kids alike a little bit batty.
Our two year old Princess always loved her doorway jumper as a toddler and loves swinging outdoors with her brothers in the summertime.  Mrs TR clued me into the unfathomable idea that you can actually install an indoor swing fairly easily and quickly.
NOTE: Improper installation of any kids swing, indoor or outdoor can lead to serious injury!  Make sure all attachment points at 100% secure and rated for the weight you'll be subjecting the swing to.  Make sure the area around the swing is free of obstructions or obstacles at all times.
There are really only two basic things necessary for installing an indoor swing:
Item 1:  A Swing
There are many options here depending on how much you want to spend and the age of the child using the inside swing.  For a toddler swing, there are a couple of main options:
Toddler Swings:

The Fisher-Price Infant To Toddler Swing is a great value at $25 and is a good bet for most babies and smaller toddlers.  It comes with a movable tray which can make it easier to put little ones in and out of the swing.  It also comes with the ropes and hooks to attach it to properly installed swing brackets.  It does NOT come with any mounting hardware and it's not easily reversible without taking down the swing and turning it around.  Also, there have been some reports of larger children almost flipping the swing forward by leaning forward at the top of a high swing.  These make it slightly less desirable than a commercial grade toddler bucket swing, but for the price, it can't be beat.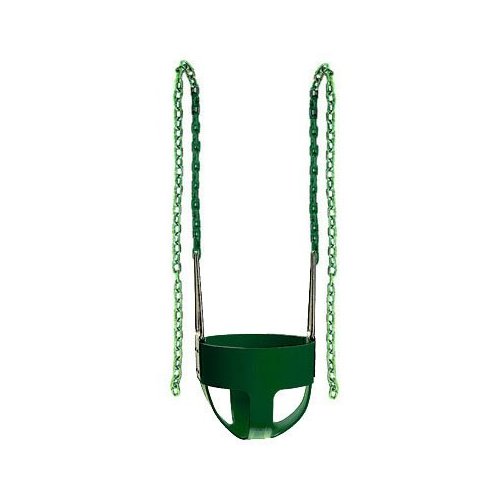 Commercial Bucket Swings are just like what you see at your traditional playground, made of  high strength plastic with an anti tipping metal attachment for the chain.  As with the Fisher Price seat model above, this one does come with the chains to hang it, but not with any brackets for attaching it to a beam or doorframe.  The chains here are vinyl coated to avoid any injuries due to pinched skin as the swing is in use.  At around $65, it's not cheap, but it's sturdy and not prone to tipping.  Certainly harder for kids to climb out of when you turn your back for that one second.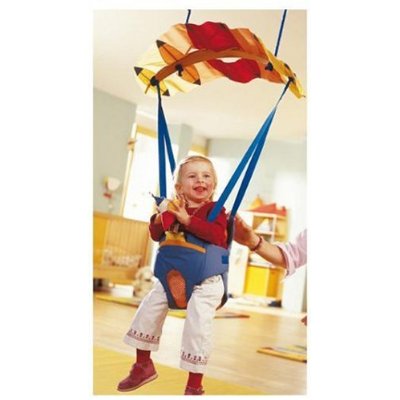 The Airy-Fairy Baby Swing – Ok, if you want the ULTIMATE in baby/toddler swing style and comfort, then the Haba Airy-Fairy is the only way to go.  Support, comfort, and a giant parachute wing make this the only way to go for the discerning toddler.  Seriously though, it's far more stylish, attractive, and adjustable than any of the other options for indoor swings, but the price may come as a shocker to some.  Click here to see the price on this Porsche of toddler swings.

Kids Swings:
The Basic Plastic Kids Swing – There seem to be far nicer options for kids indoor swings than those for babies and toddlers.  For toddlers and babies, it seems that basic hard plastic is the only option.  And there are still hard plastic options for bigger kids.  For around $20 you can get a basic plastic kids swing, complete with vinyl coated chain.  Not all that much to say about it, it's a swing.  Note that like all the other swings, hanging brackets are NOT included and must be purchased separately (see our picks below).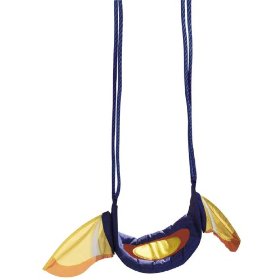 The Haba Swing Seat Ikarus is certainly a huge step up from the generic green plastic chain hung swing pictured above.  Made from strong polyester cloth filled with bean bag type stuffing, this is far more comfortable than most swings.  It comes complete with nylon wings to give your little one the feel that they are really flying inside.  Also, for an indoor swing, a chain probably is a little overkill and likely won't fit into most decor.  Plus the irony of the name can't be lost on anyone who has tried to swing so high that they actually flip over to the other side…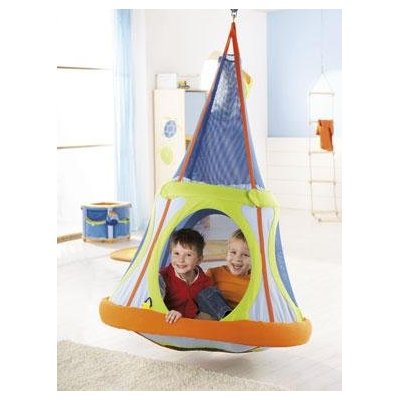 Haba Swinging Tent Cavern is much like the Airy Fairy toddler swing above in that it will certainly make your little ones jaws drop when the see it ready for their enjoyment.  It's maximum load of 176 pounds could easily fit both our 6 year old boys, their little sister, and likely a couple of friends.  Of course, it has a price that will set you back a but, but it certainly wins for sheer awesomeness.
Item 2: Swing Hangers
Honestly, if you have a drill of any kind, cordless, corded, whatever, you're fairly well qualified to mount a kids indoor swing.  First you need to score some swing hangers.  Really you have two basic choices.  Note, you won't typically find these at your local Home Depot or Lowes for whatever reason, apparently they're considered specialty items.  They're pretty easy to order online from the following places.  Seriously, as long as you have a sturdy well built door frame or an exposed beam, you can mount an indoor swing set.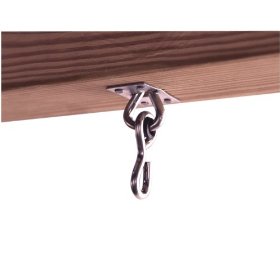 The Wood Screw Swing Hanger is what you need to use if you don't have a fully exposed beam with which to hang from.  Basically you screw two of these into a door frame or beam at a distance slightly greater than the width of the swing, at bare minimum 20 inches apart.  If you are hanging in a door frame, about one to two inches from sides is a good bet.  Be absolutely sure you get a good bite into the wood of the door frame, not just the trim, using some nice long wood screws.  Note that these come as a pair, so you only need to buy one hanger for your swing.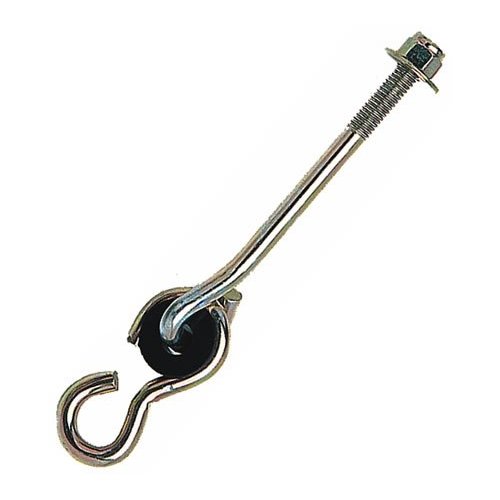 The 6 3/8 Nylon Bush Swing Hanger is what you want to be using if you have a fully exposed beam and/or are attaching to something other than wood.  You drill a full hole through your beam and thread this swing hanger right through, with the washer and nut on the top side taking up all the weight.  Just be VERY careful with the size of the hole you're drilling, should be the same size as the swing hangers going through it to make sure the washer and nut on the other side can take the weight.
Do you have some pictures of an inside swing you'd like to share?  Let us know in the comments below!
Related Toy Reviews: