UPDATE: Checkout our latest guide on how to install an indoor swing at Installing Indoor Swings
When I was little we had a swing inside the house. There was a finished basement with a big long room with exposed ceiling beams, perfect for a swing. I loved that swing. I used it all the time and never realized that other kids didn't have swings in their houses.
I have been wanting to get an indoor swing four our kids, but can't find a good place to put it. We don't have a basement and while we have many rooms, none of them are big enough to really swing in unless the room is mostly empty. While our house can't really be considered small, it isn't large enough to devote an entire room to swinging. And then there is the matter of convincing Remo to locate and attach things to ceiling studs. Sigh. I guess I will have to think this over some more.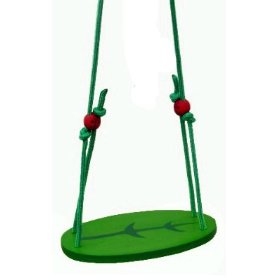 But my indoor swing issues don't prevent you form making your children the happiest children on the block this winter by providing them with their very own indoor swing. There are some very cute ones out there. I like the leaf kids tree swing:
If you are looking for a traditional swing that is comfortable and looks really nice in a kids room, the Butterfly swing from Haba is beautiful: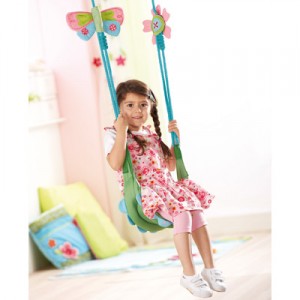 The Haba Swinging Tent Solemio is another great choice, a completely enclosed swing with windows.  The Solemio is a great spot for a kid to have some alone time, and is especially suited to kids with sensory issues who can really benefit from the enclosed space and rocking motion at the same time.  Both sturdy and very nice looking, unfortunately it has been discontinued by Haba and you'll be hard pressed to find one anywhere.
And, are you ready for the Mother of all indoor swings, the indoor swing all other indoor swings want to be when they grow up? Let me introduce you to the Haba Ship's See-Saw Swing.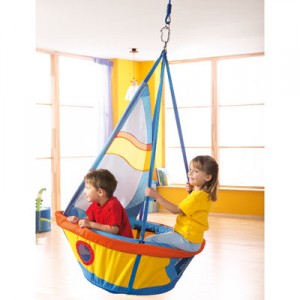 I know, I want one too. Sadly it is sized for toddlers, not grown-ups. Look, it has an anchor.
Apparently is spins too. Guaranteed to be the best Christmas present ever. Just don't wake up the kiddies with all the drilling!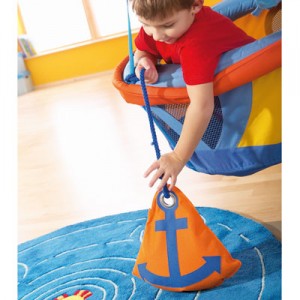 Note that the Haba Ship Swing can be very hard to find in the US.  Many places get some then go out of stock.  Click here for the places we've found with them in stock.
Related Toy Reviews: