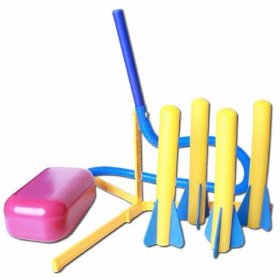 A couple of weeks ago, Mrs TR posted a review of the Stomp Rockets that are one of the boys favorite toys ever.  The spell checker thinks that favoritest isn't a word, but if it is not, it really should be.
Anyway, Stomp Rockets do exactly what they sound like.  You stomp on a little plastic pad that is filled with air and a foam rocket attached to it shoots up into the air.  The box says up to 100 ft and I can believe it if an adult stomps on it.  The 6 year olds can only get about 50 ft up in the air, but still, that's awesome!
They are a fabulous toy and make a great gift for the kid who has everything from the person who doesn't want to spend a ton of cash.  They're around $12 for a set of three or four rockets and the launcher, and you can buy extra rocket packs for those that are now stuck up in a tree, hidden in the woods, or lost at sea.
And now, even better, you can get Glow In The Dark Stomp Rockets!  So next time your stumped what to get for that next 6 year old birthday party, you can go wrong with these.  Pair them with a Live Butterfly Garden and you have a great summertime outdoor gift set.
Most Commented Posts