Last week we published Gifts for Kids – The 6 Biggest Mistakes as a guideline for how to avoid gift giving disaster.  This week we're following up with advice on how to give that perfect unique gift for a child.
Know Your Audience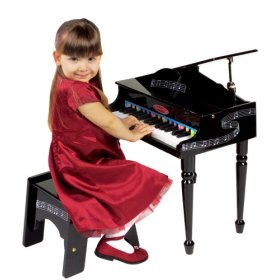 Use what you know about either the child or the parents to guide your decision.  If possible, research what the child likes.  Are they into sports?  Get them a Kids Basketball Hoop or a Kids Golf Set.  Have a child obsessed with horses?  Get them a set of Horse Friends and a Folding Stable.  If you aren't in a position to ask what the child likes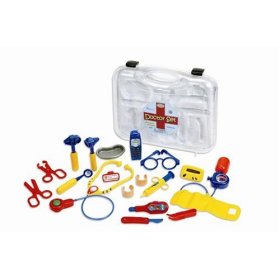 , use what you know of their parents as a guide.  Is a parent a medical professional?  Get them a Doctors Kit.  Is a parent a musician?  Consider getting a 3 year old a Kids Piano even though the age range says 4-7.  Which leads to our next point.
Stick to The Bottom of The Age Range
Buy toys near the bottom of an age range.  Try to give gifts that the child can enjoy for years to come.  Get a two year old a Kids Piano and they'll use it for years, vs  a six year old who will grow out of it quickly.  Buy a toddler some Webkinz and just remind the parents to put the tags away until they're 6-7 and ready to hit the Webkinz website and see their favorite childhood toy in action.   Get a Music Table for the 6 month old, and they'll discover more about it for years to come.  However, beware going too far and giving a toy that is completely beyond the capabilities of the child that will just cause frustration for both the child and parents.  Don't buy a LeapFrog Game System for a three year old, but consider it for a four or five year old.

Fall Back on the Classics
We'll could do a whole article on classic games and toys, and probably should.  There are many classic toys and games that are as fun for today's kids as they were for you.  They still make Play-Doh, Shrinki Dinks, Lincoln Logs, Tinker Toys, Checkers and many others.  They are typically less expensive than many modern toys as well.
Be Creative
Sure, there are lots of popular classic toys or games out there you can get, but you can also think outside the box and attempt to expand a child's horizons.   Get an 8+ year old a Go Board and Stones Set.  Get a 4-8 year old a working Pirate Ship, get the 2-3 year old a set of Fantasy Land Jigsaw Blocks, and get the 1 year old some Haba My First Blocks.

Get Extra Parts
Don't buy a something that needs extra parts without also getting the extra parts.  Buying that 8 year old girl a pink Nintendo DS? Get at least one game and a carrying case.  Buying an Easel?  Get extra paints and paper.  Don't buy a toy shopping cart without also buying some play food.
Add a Book
Feel like one present isn't quite enough, or that you need to offset the Dart Machine Gun with something educational?  Throw a couple of books in on top for that little bit extra.  See our article on Gifts for Toddlers and Up – Our Favorite Kids Books for some suggestions.
Get Each Child a Present
When attending any gift giving occasion, bring a gift for each child so they can all feel special.  Bring a book, ball or small toy for the younger siblings when attending an older siblings birthday party to help take the sting off Big Sis getting all the attention.  Also, when buying gifts for Multiples (Twins, Triplets, etc) get at least one present for each child, no shared presents allowed!  This is a particular sticking point in our house, as the Boys have received joint presents on their birthday.  No matter how cool the bigger/more expensive single toy is, there is always a fight over it.  Get a present per child, always.
Let the Parents Decide
If after all this, you still can't decide on a present, or you won't be able to attend the special occassion but still want to send a present, let the parents decide.  Get them a Gift Certificate to Amazon or other Internet shopping site, and tell them to order something the child likes in your name and make sure they have it gift wrapped so it arrives ready to be gifted.
Related Toy Reviews: