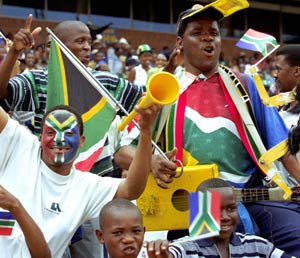 If your kids are football fans, or soccer as we call it here in the States, then likely you've heard the sound of the vuvuzela without knowing it.  For those of you American's living in a box, the World Cup is the most widely viewed sporting event in the world, with well over 10% of the population of THE EARTH watching the final World Cup game on television back in 2006.
The World Cup is back this year, being on a four year cycle similar to the Olympics.  This time the World Cup is being hosted by South Africa and overshadowing the roar and hush of the crowd during an exciting game is the constant drone of what sounds like sad cows or buzzing bees.
That is the sound of the Vuvuzela, a collapsible plastic horn popular at Sound African sporting events.  Many players and viewers find the constant drone a major annoyance and many have called for it to be banned.  However, FIFA president Sepp Blatter refuses to ban them, saying these are the South African games and they must be allowed their traditions as they see fit.
Want some advice on how to reduce the sound of the Vuvuzela while watching a World Cup match?  Check out the following video for some advice.
If you can't beat 'em, join 'em! Buy your favorite little soccer/football fan their very own World Cup 2010 horn. For under $10, you can click here to own your own Vuvuzela.
Most Commented Posts