Does it seem odd that a grown woman is excited about getting a Boon stuffed animal storage chair for her birthday?  Not when she's a mother of three kids with a stuffed animal collection to rival a well stocked toy store.
We've had a major issue storing stuffed animals at Chez Toy Report for a couple of years now.   I remember having 5 or so stuffed animals as a kid, nothing too troublesome, just enough to fit on a shelf with one special bear to snuggle with while falling asleep.
Somehow, our house looks like the Tribble episode of Star Trek, with stuffed animals everywhere, on the floor, on shelves, on the tables, jammed into corners, you name it.
We thinned the herd recently, allowing each child to keep 7 of their favorites out and stuffing the rest into a full sized duvet cover that now acts as an extremely large and lumpy mattress on a full sized bunk bed.
How did we get to this level of plush hell in our house?  No one person is to blame.  Well meaning relatives, gift givers, Rainbow's obsession with those claw vending machines, and our combined inability to throw out anything cute a fuzzy have all played their parts.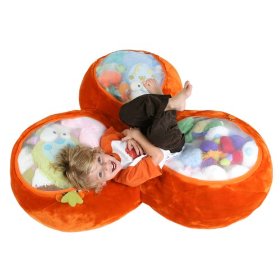 Mrs TR has been coveting a Boon stuffed animal storage bean bag chair for years now, ever since the plush toy problem started to get out of hand.  The problem is, with three kids do we need to buy three of them?  Or one with the three sides to it and they have to share?
Taking matters into my own hands, Mrs TR is now the proud owner of her VERY OWN Orange Boon Trio chair, which I got for her birthday yesterday.  If the kids have a problem sharing it, they don't get to use it, since it's HERS.  Problem solved!
Want one of your own?  Click here for more details on Boon Oval Animal Bag colors and sizes.
Related Toy Reviews: