So, your four year old is really into wooden trains and you are having a hard time keeping the one year old from wrecking them. Solution: get the one year old his/her own trains. I am loving these Brio First Train Sets for tiny engineers:
They consist of cute little animal themed trains and an animal friend who comes with a zippered tummy that holds the trains (this age group loves to put things in). Only some of the sets come with tracks, so don't expect tracks unless you see them in the picture. They all fit with standard sized wooden train tracks, so those of us with heaps of train tracks may be just as happy with the non-track including sets. They also come with a pull string with a magnet on it so the little trains become pull toys too.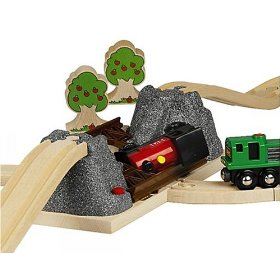 Now, a little something for the older kid who may have all the trains and track he/she needs. Consider getting a really cool piece like one of these Brio (or Brio compatable) train bridges. The boys were looking over my shoulder and caught a glimpse at the collapsing bridge and 20 minutes went by before I could start writing this because we had to look at all the pictures and discuss the 8 zillion ways this was the coolest train bridge ever!  Click on the pictures more details!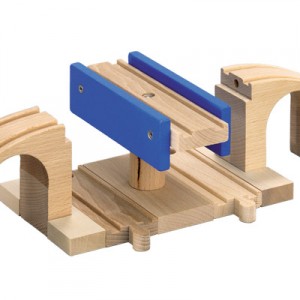 Related Toy Reviews: