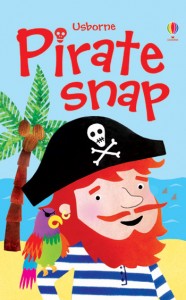 This is what the kids and I did tonight while we waited for Daddy to come home from work.
Pirate snap is a card game enjoyed by the 1 year old, the 5 year olds and the grown-ups alike in our house. You deal out all the cards and take turns putting a card on the top of a center pile. If a card matches the card under it the first person to yell "snap!" gets all the cards in the pile. The last person to have any cards left wins. If it sounds familiar, it may be because the kids in the Harry Potter books are always playing "exploding snap."   It is a great game for kids because it goes so fast everyone gets a chance to win a few times, or at least a few snaps. The Princess didn't actually play, but we gave her a few cards and she kept putting them on the pile while saying "Snap!" pretty much continuously. It added a noisy and silly dimension to the game.
And look! There is also Fairy Snap and Monster Snap.
I am thinking I might order a few of these to keep in the present box. We seem to attend an endless round of birthday parties so having last minute presents hidden somewhere makes things much easier.
Related Toy Reviews: