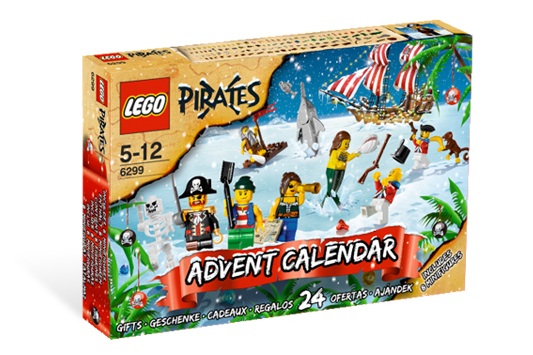 Well folks, we're fed up.  One of the kids was looking over my shoulder while I was editing out post on the Lego Advent Calendar for 2009 and of course had to know what it was and if they could get one for their birthday.  And they were NOT referring to the boring old City version that is available in the US, no no.  They wanted the Pirate version and no other.
But as we said before, they are not available in the US unless you have one imported from the international Lego black market!
We were thinking about starting a petition, but really, what good is a petition to a manufacturer when the likelyhood of them ever seeing it is slim.
A far better and more effective method is to start a letter writing campaign!  If we can get them a few thousand emails in the next month or so, maybe they'll listen!
The easiest method to ask the good folks at Lego to provide some Lego Advent Calendars for the US market is by emailing them.  You can follow this link to the Lego website and send Customer Service a quick message.  Keep it polite and courteous please of course!  There is a checkbox for "complaint" on their form that is probably the right type of thing here.  Just ask why the Pirate Lego Advent Calendar is not for sale in the US and to please make some available to some online retailers so we don't need to be
Obviously, if you are so inclined, it would be far better to write an actual physical letter!  Have the kids write some heartfelt messages about how this will be the worst Christmas ever without the Piratetastic version of the advent calendar.  Stuff like this always plays better in a little kids handwriting, don't you agree?  You can write to Lego Headquarters USA at the following address:
LEGO Systems, Inc.
555 Taylor Road
P.O. Box 1138
Enfield, CT 06083-1138
USA
Good luck folks!  Together we can hopefully make a difference and have a happy Pirate Christmas this year!
Related Toy Reviews: