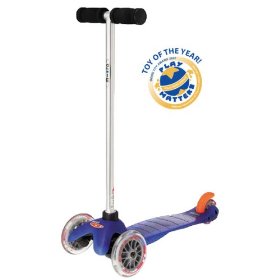 We've had our Mini Kick scooters over 5 years now, and have been huge fans ever since.   Mrs. TR first bought two of them for the boys for their third birthday back in 2005!  There was only one color you could get back then, the blue one, and the boys took to them with surprising speed and agility.  Actually, that has nothing to do with them being amazing three year olds, but rather the design of the Mini Kick making it super easy to ride.
This toddler scooter has two wheels in the front and a leaning steering mechanism that make them easy to steer without overcompensating like you can with traditional turn steering.
In fact, you can see our inaugural scooter run on the boys 3rd birthday back in 2005 right below in this YouTube video.  I was a little shocked when I checked it the other day and it's received over 11,000 views!
The scooters have racked up the miles over the last five years, both out on the bike trail, out in the yard, and just tearing around the kitchen island.  The boys, now 8, are too big for them and have moved on to their Maxi Kick Scooters, but the Princess just turned 4 and has the choice of not one but two Mini Kick scooters to pick from.
For anyone considering buying one, they're a great investment!  If you want to wait a few more years, maybe you can have one of ours when the Princess is too big for it.
Related Toy Reviews: