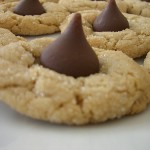 We're in the midst of our frenzied Christmas planning, having stayed up last night until 1am wrapping presents and making cookies in preperation for our Christmas Eve party this evening.  It's a new tradition around our house, now in it's second year.  Between preparing and the inevitable cleaning up after the party, it adds quite a bit of crazyness to the holiday season, but it's nice to get together with family and friends to kick off the Christmas holiday.
In any event, I've been making this cookie recipe for the past 20 or so years, having started making them as a kid at my parents house becuase they were my favorite cookies and the bakery near our house that made them had closed.
Here is my Christmas cookie recipe I've always used and loved.
Peanut Butter Chocolate Kiss Cookies
1 Cup Salted Butter (softened)
1 Cup Peanut Butter
1 Cup Sugar
1 Cup Brown Sugar
2 Large Eggs
1 Tablespoon Vanilla
--------
2.5 Cups Unsifted Flour
1 Teaspoon Baking Powder
1 Teaspoon Baking Soda
--------
Sugar for Rolling
Chocolate Kisses
Mix the first six ingredients in a bowl until fluffy, then add the rest and mix.
Roll into 1 inch balls, roll in the sugar to coat.
Bake at 350 degrees for 12 minutes
Press one Chocolate Kiss into the center of each cookie immediately after removing from the oven.
Enjoy!
Related Toy Reviews: