It's that time of year again, when our children begin to get schoolitis, that affliction that sets in mid-August when almost three months of summer vacation have worn out their welcome and it's time for back to school planning!
Lunch boxes are weighing heavily on our minds right now. The soft sided insulated lunch boxes the boys have been using for the past year are starting to look pretty gnarly, both inside and out. Spilled yogurt, leftover banana peels, and general abuse have left them functional but not pretty in the least. The outsides are stained and worn, and the insides have some grey gunk in the corners that seem impossible to fully remove.
It's time for new lunchboxes, and this year we've found some great ones to help you break out of the mold so to speak.
The Goodbyn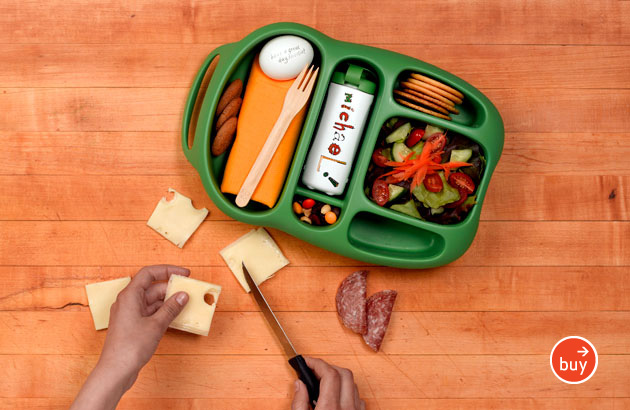 Imagine for a minute that you could eliminate all the plastic containers, lids, and disposable plastic bags that you waste every day, yet still keep foods separated and a lunchbox clean and fresh every day?  Sound too good to be true?  Mrs TR clued me into the Goodbyn, a plastic segmented lunchbox with a cover that keeps each portion separated from all the others.  They come in two different styles, with ears on the style for the younger kids making it easier to open the box, and ones without ears for the older kids who might not want their lunchbox to look like it's shaped like an animal.
Each lunchbox comes with three pages of hundreds stickers to decorate it with, and the stickers are dishwasher safe as well!  Place your child's name and any allergy information directly on their lunchbox, then let them decorate the rest!
The lunchbox is dishwasher safe, although many people recommend only putting the bottom portion in the dishwasher, as the top is flexible and needs to maintain it's shape to close all the individual portions.  It does take a little more planning to make sure a sandwich placed in the center compartment doesn't become a mess when it's carried upright, but it's worth the extra effort.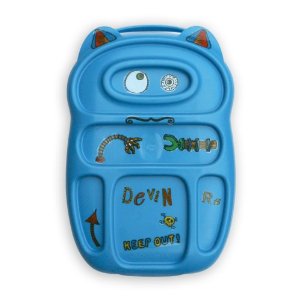 Note that the Goodbyn is not insulated and each compartment is fairly small.  If you live in a warm climate (we don't) you might need to invest in some small ice packs to keep the cold foods from getting too warm.
Some users state that it's difficult for younger kids to close and open a Goodbyn correctly.  For those of you sending young kids to daycare, a three year old not being able to open their own lunchbox without help is probably a good thing, but for those with a five year old it might be frustrating.  Keep the Goodbyn for kids under 4 and older than 6.
This gem of a lunchbox is BPA and Phthalate free and made out of #5 and #2 plastic so it can be recycled when your child grows out of it.
The Goodbyn lunchbox is available in multiple colors.  See all the color choices and more details by clicking HERE.
Kotobuki Bento Box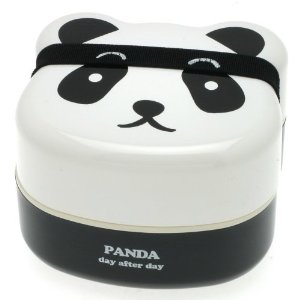 While not as compartmentalized or easy to carry as the Goodbyn, the Kotobuki Bento Box certainly is cute.  There are two main styles, one shaped like a panda and one shaped like a frog.  Each boasts two compartments for keeping two different dishes separated and comes with a strap to make sure it doesn't pop open in your little one's backpack.  Both compartments are dishwasher safe and touted as microwave safe, but putting anything plastic into a microwave is never a good idea.
The band is especially cute, acting as a sort of headband for the panda or frog, with eyebrow accents painted on it for the panda, or tears under the eyes of the frog.  Not sure why the frog is crying (it's smiling and seems happy otherwise), but maybe it's just got something in it's eyes.  Click here to see the Frog Bento Box.
Sachi Fashion Insulated Lunch Bag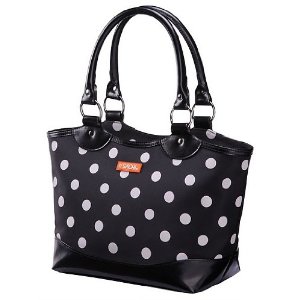 Have a young woman that is simply too fashionable to be bothered with a traditional lunch box?  Maybe she's reached that age between elementary school and high school where a Hello Kitty lunchbox is no longer something she wants to be seen with (don't throw it out, she'll want it again someday).  The Sachi line of insulated lunch bags is just the thing.
Good sized without being huge, these purse like lunch bags can hold a drink, a meal, and an ice pack no problem.  They come in a wide variety of designer styles, all for under $20.  If carrying the same bag to school everyday is a worry, a couple of nights of babysitting could cover a full weeks worth of lunch bag styles.
Click here to see all the different styles of Sachi Lunch Bags
Related Toy Reviews: