LEGO Storage is a problem for all of us with LEGO Loving Loved ones. Well, I have an example of an amazing LEGO storing system. I was reading The Blue Blog, one of my favorite knitting blogs, the author of which also has LEGO obsessed twin boys. Behold, the wonders of her Lego organization system: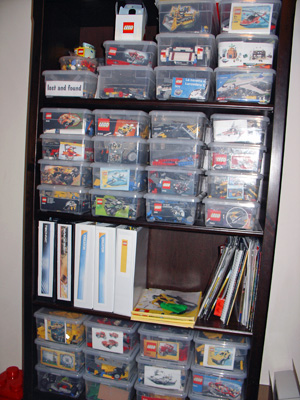 A container store shoe box (I have container store shoe boxes!) for each individual set, with a picture of the set taped to the box. The directions are all in binders. Binders! It is genius! The show boxes in a bookcase take up so much less room than the IKEA drawers where our LEGOs live.
I am worried that it is too late for us. so many of our sets have been mixed together. Every six months or so Remo and the boys make a day of it and sort through all the LEGOs. Maybe the next one can involve sorting back into sets (is that even possible?). Or maybe we just begin now as we mean to go on and keep all future sets in their separate boxes. Hmmm. I will have to ponder. thank you Alison for your example and inspiration!
Related Toy Reviews: