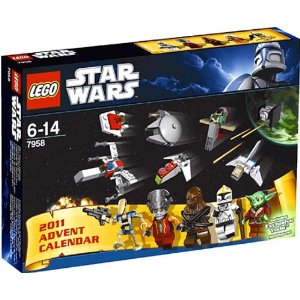 The fine folks at the LEGO Group have stealthily released this years Lego Advent Calendar, with a small amount showing up at one online location already in the middle of August.  If you're VERY lucky, they might still have them in stock here.
So you think it's too early to be worrying about getting your own 2011 Lego advent calendar this Christmas season?  For the past few years LEGO has put out two holiday calender sets here in the US, one generic City one and one special one.  And each year, the special one sells out quickly way before the holiday season.  The City one is typically sold out by mid day on Black Friday.  Don't believe me?  Check out this post from two years ago at the height of the recession:  Lego Advent Calenders Sold Out – Told You So!
Seriously, if they have one in stock here for under $45, buy it today or regret it later.  There is an excellent chance the Star Wars Advent Calendar will be gone by October.
And you know what?  They never come back.  Lego makes a limited advent calendar run every year, since there is only a demand for these during the holiday season.  There are eBay sellers that stock up on them each year and sell them at a hefty profit for $60-$100 a pop.
Star Wars Lego Advent Calendar

This year Lego has put their powerhouse Star Wars brand on the calendar and included a couple of great minifigs.  Pretty much the only place to get a Yoda minifig in a set was to buy the $85 Assault Tank set, and Chewbaca wasn't easy to come by either.  Not only are both of them are in this set, but Yoda is dressed as Santa Claus!  You also get a mini X-Wing, a mini Millennium Falcon, a mini Slave One (that's Boba Fett's ship for the non-Star Wars geeks out there), a Tie Fighter, an Imperial Shuttle and more.   If you have a 5-10 year old boy, don't miss this one this Christmas.
You can find more details on what's in the Star Wars set here.
City Lego Advent Calendar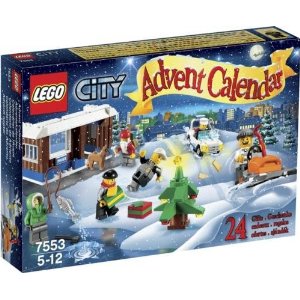 Yeah, there is also the City version of the Lego Advent Calendar.  Sorry, but I'm so darn excited about giving the boys the Star Wars version that I just can't even get interested in the City one.   It has a tree, it has Santa, it has a guy ice fishing.  Honestly, it's a really good christmas calendar, just like Lego puts out every year.  Your kids will likely love it.  BUT DOES IT HAVE YODA?  HECK NO!  It's not even available yet, but you can pre-order it for September 1st.
You can see more details on the City version here.
Related Toy Reviews: