There is a giant selection of nighttime lights out there, and everyone seems to have a different opinion on which are the best kids night lights. Well, that's what you come to your friends here at The Toy Report for right?  Let's shed a little "light" on the subject, shall we? There are three main types of kids nite lights worth talking about out there:
Plug In Night Lights – Lights that plug directly into a wall socket.  New LED models use barely any electricity.
Projector night lights – Throw a lit image on a wall or ceiling to act as a night light.
Rechargable & Mobile – The magic of LEDs strikes again.  Low power and ultra cool night lights your kids can take anywhere, even in bed with them.
Here are some of our favorites.
Plug-In Night Lights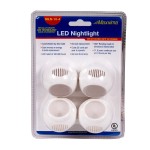 If you don't mind that they're not cute or kids themed, these Maxxima LED lights are just awesome.  Four to a pack of only $15, the have a light sensor and only turn on at night and cost around 25 CENTS a YEAR in electricity.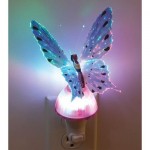 If something a little more decorative is needed, this butterfly fiber optic night light is a great choice.  The entire butterfly lights up in a dazzling array of different colors.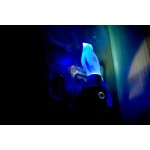 For the ULTIMATE in kids night lights, there is the Blue Canary night light.   If you aren't familiar with the awesome 80's/90's cult superstars They Might Be Giants, you should become a fan of their great recent kids albums ASAP!   This is literally the blue canary in the outlet by the light switch who watches over you, and only costs $0.25 a year to operate.
Of course, there are also a plethora of Disney Princess, Cars, Spongebob, SpiderMan and other kids pop culture icon night lights to choose from as well.  Click here for a full list.
Projector Night Lights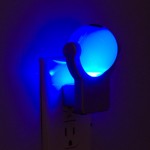 This is technically a plug-in night light too, but it's also a projector!  These Projectables line of kids night lights throws a picture on the ceiling or wall.  There is a solar system version, a tropical fish version and a princess version.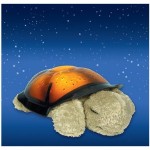 Generally considered the cream of the kids night light crop, the Cloud-B Twilight Turtle star projection light is probably your best bet for a projection night light.  It has more 5 star ratings and reviews than any other kids light I've ever seen.  Simple, cordless, and with an automatic shutoff, the Twilight line throws  stars and a moon in a wide swath across your child's room.
Portable Night Lights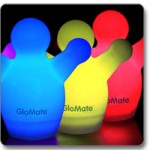 The Mobi Glowmate is one of the most popular kids night lights due to their recharge ability where you just need to put them on the base.  They can also be set to glow in multiple colors or just cycle through all of them.  These are actually my favorites, and our older kids favorites as well.  The ability to move them around the room, put them in bed next to you, and take them to the bathroom make them the most versatile.     At $15, it's a complete steal.
Related Toy Reviews: