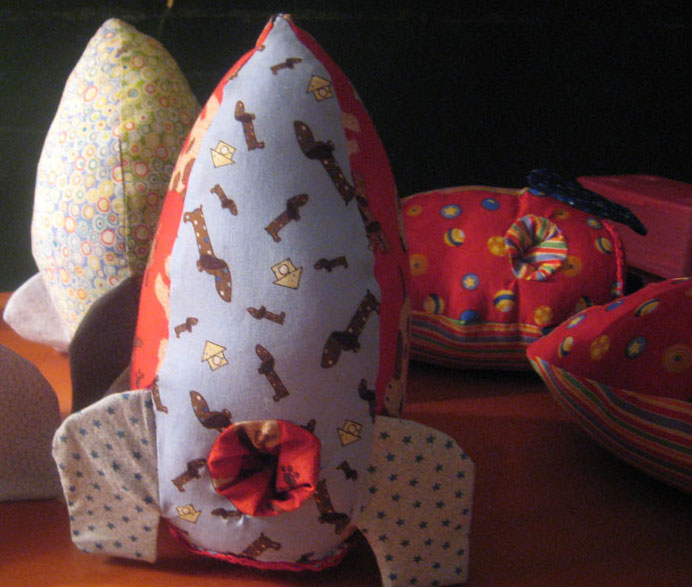 Mrs Toy Reporter is too modest (or too tired after the late nights making these) to post her latest creation for the kids.  They were one of the biggest hits of Christmas, more beloved than all the Bakugan and Lego's put together.  It looked like the Star Wars Light Sabers might edge them out for a bit, but they're now gathering dust while the rockets are snuggled in bed each night.
That's right, Mrs TR spent a bunch of pre-Christmas nights cutting, sewing, and stuffing 6 handmade toy plush rockets, two for our boys and four for friends in the same age range.  The Princess did NOT get a rocket and is luckily still too young to notice.  Someday she may ask where hers is and Mrs TR will have to whip up one more.
She decoupaged printed photos of the kids faces onto wooden eggs, so that each child could really pretend to be Rocket Boy or Rocket Girl looking out of their rocket as they explored Outer Space.

And pretend they did on Christmas Eve when the rockets were handed out.  There was lots of zooming and wooshing around the room (and at least a couple of football passes before being informed against it) and demands to snuggle with them in bed.
The pictures aren't the best, as they were quickly taken late the night they were completed, but the 5 Rocket Boys and 1 Rocket Girl can't easily be regathered for more professional daytime group photos as they've been gifted.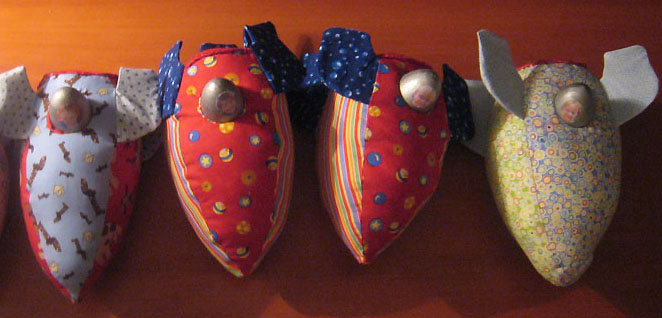 If you want to make your own, the pattern came from The Long Thread, which has tons of other great homemade toy projects as part of their Make It Monday series.
And as the boys like to say: "3… 2… 1… Blast Off!"
Most Commented Posts