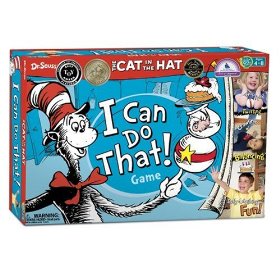 I don't know if you have heard of it, but I have been reading about the new(ish) Dr. Seuss themed game, Cat in the Hat, I Can Do That. Well, people either love it and their kids can't stop playing it and it is the best game they have ever played OR they are disappointed because the pieces seem flimsy.  For $20 I was kinda on the fence, thinking that it looked fun and it has won heaps of awards but how many games do we need, you know? Then I looked on Amazon and it is currently 70% off (!) making it only $5.99. I ordered two of them.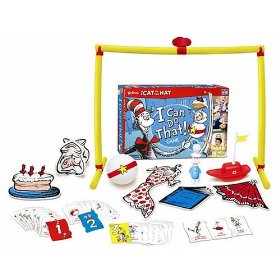 It seems like a great game for kids that maybe aren't ready to sit still for long enough to play a regular board game (Speedy can, Rainbow not so much). Kids draw cards that combine into silly Cat in the Hat themed combinations of activities.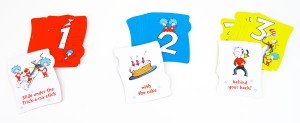 I'll let you know after Christmas how we like it, but for $6, even if it is only fun for a while or the pieces all fall apart before next Christmas, I still think it will be worth it.
Related Toy Reviews: