About a week before Christmas we received quite a big dumping of snow here on the East Coast.  We live near the ocean and it's fairly unusual to get more than a foot of snow in one storm.   But last week we had close to a foot and a half of great packing snow hit the ground in less than 12 hours, and so we set out on Sunday afternoon to build an igloo in the front yard.
Mrs TR had the good sense to stay inside the house during this one, so the boys, the Princess, our good friend Heather, and I took care of the snow construction.
It took about 4 hours total, but mostly because of missteps and the learning curve involved in building an igloo for the first time.
Lesson #1: Those little kids toy snow block makers are useless.
No matter how we tried, we could not pack the snow hard enough into those traditional cheap plastic snow block makers to make a decent snow brick.   Instead, we used storage buckets like these to make large blocks, which turned out to be the perfect solution.  We had to pack them down quite a bit to make solid block forms, as without enough pressure, they would tend to fall apart.  The top layer of snow was too powdery, but the lower three quarters were great slightly wet packable snow.  Once we learned these tricks, the igloo building really took off.  Of course, another thing we discovered was that translucent white buckets are not all that easy to find in a snow storm, but since we had three of them, we could generally find at least one at any given point.
Lesson #2: Make a circle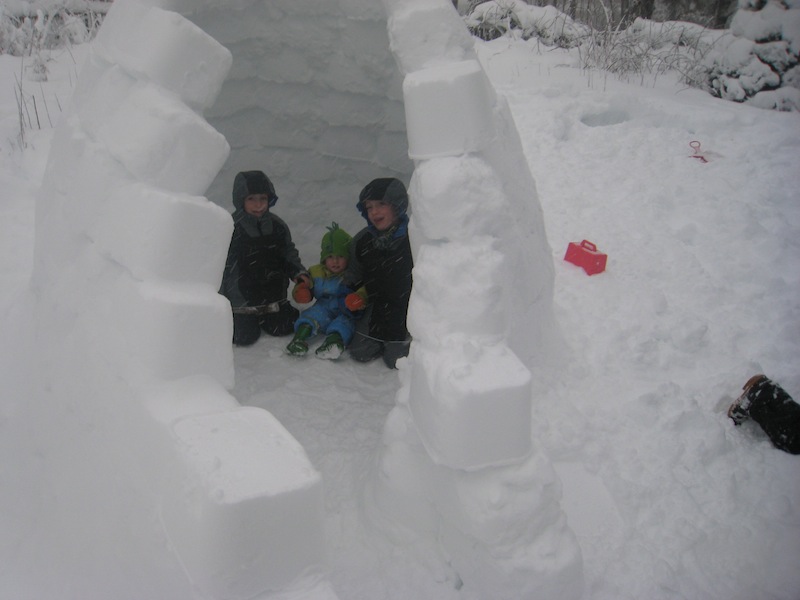 Looking back on it now, I'm a bit shocked that the igloo stayed up as long as it did in this form.  But we learned at about the three hour mark that once you start building inward to close off your igloo, the blocks are going to fall unless they have other blocks to support them.  We started out thinking we would leave a hole for the door, but then as the igloo climbed higher, it became far more difficult to keep the pieces up and to close off the hole.  We tore off the doorway section and started building it completely closed with me inside it.
Lesson #3: Build someone inside the igloo, then dig out
Do not attempt to get in or out of the igloo or build a doorway until the igloo is complete.  One person stays inside to place the blocks, the other makes the blocks.
Knowing what we know now, I think next time we could build a better igloo than this one in about two hours.  Having a third adult would certainly have sped up the process.  It was helpful to have Mrs TR inside the house to dry off the kids and provide them with critical hot chocolate breaks, thus allowing Heather and I to work with more efficiency.
Below is a selection of images from the igloo building process, as well as a video we took from the inside after the igloo was completed.  Enjoy!
For more information on building your own igloo, I'd strongly suggest reading this first
Related Toy Reviews: