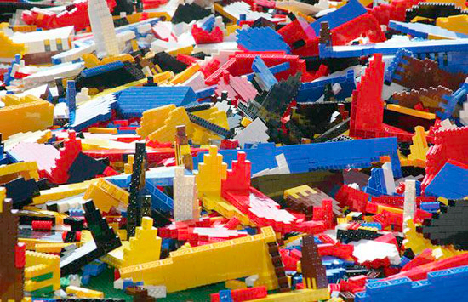 Earlier this year, Mrs TR wrote about a homemade LEGO storage solution using plastic shoe boxes to store each LEGO set, complete with picture cut out from the box. In a perfect world we be able to keep each individual LEGO set separated from the others.
In reality our many Lego masterpieces are now scattered to the four winds of our house.  Spaceships crash, castles are destroyed by Lego catapults, you get the idea. Then all the bricks get shoved in bins or boxes or whatever is hand. Sound familiar?
We call the 6 week period between the boys birthday in November through school break as "Lego Season" here at Chez Toy Report. And in honor of "Lego Season", I've been investigating a better Lego storage system than our current random bucket method.
Here are the best Lego storage solutions that we've found:
Low Cost Lego Storage – The Clear Shoebox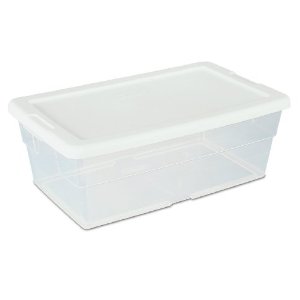 If budget is an issue and you want a quick and clean way to get those Legos off the floor, then this is the solution for you.  For around $21, you can get 12 of these 6 quart see through plastic boxes. They're about the size of a traditional shoebox and will hold the vast majority of Lego kits in their disassembled state.  For those really large Lego kits, you can get the 16 quart versions for about $10 more.
You'll need to stack them or put them on shelves and deal with the inevitable issues when you knock over a stack of them and a lid comes off, but it's a darn lot of storage for only $20.
Click here for more details on the clear Lego plastic boxes
Better Lego Storage – Iris LEGO Line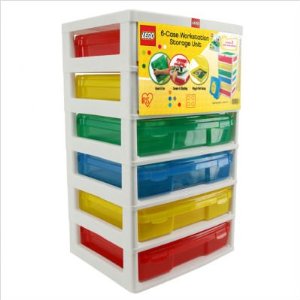 Want something that would match your Lego themed decor a little better that still won't break the bank?
Isis makes a line of storage bins specifically for LEGO that includes multiple bright colors and LEGO designs.  These storage bins range in size from project boxes like the ones pictured at the left, to much larger 21 quart stackable versions.
All of them are translucent so you can see what's in them without having to open the boxes.
These are great for storing individual LEGO projects, but if you want to sort your LEGOs by color or type, this isn't the solution for you.  But read on…
Click here for more details on the Iris LEGO storage line
The Best Lego Storage
Ok, say for a minute you take your bricks seriously as we do in our house.  Say you have a TON of Legos.  Come on, say it.  You know you do.
Or if you don't yet, think about the future.  If you think you're six year old is going to get bored with Legos when they're eight, or ten, or even twelve, you're sadly mistaken.  You will collect more than will likely fit in two of the Isis storage containers above.  Trust me.
What to do?  I give you the Seville Classics Commercial 7-Shelf Bin Rack System. Behold!
Imagine how many LEGOs you could fit in this puppy? You could sort them by color, then put the little dividers in the bins and sub sort the colors into various sizes. Think about the possibilities!
Now, this set of storage racks isn't cheap, but when you think about what you're getting, it's a pretty good price.  Think of it as an investment in the future. Unlike most kids toy storage that will be worthless when you're kids get older, this storage unit can easily transform into non-toy storage.
Click here for more details on the Seville Bin Rack System
Related Toy Reviews: