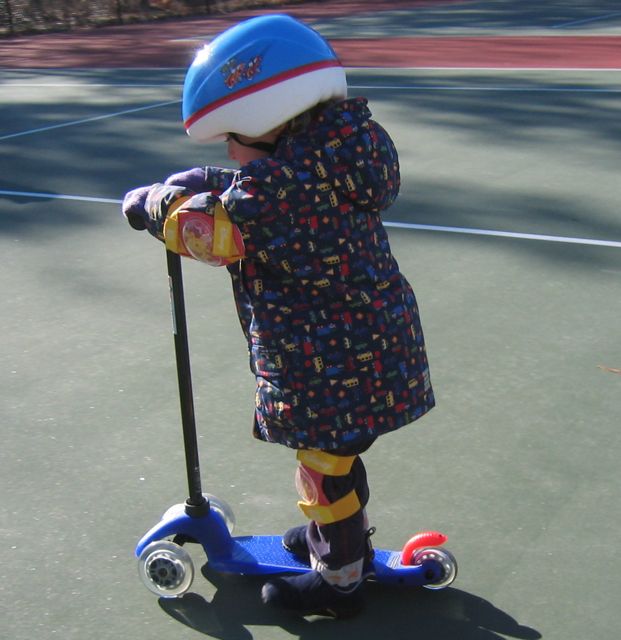 We've been big fans of the Mini Kick scooter for kids since Mrs TR first went on a kids scooter search for the boys when they were turning 3 years old back in 2005.  After much research into reviews, looking at all the kick scooter options, the standout winner was obvious.
You can read our review about how she did some research and found the best toddler scooter was the Micro Kicks from Kickboard USA.  It's stable three wheel design, size, craftsmanship, and slow precise turning ability make it the superior scooter for toddlers.  That bundled up kid in the picture is Rainbow at three years old on his second outing to the local tennis courts.  It's hard wanting to ride your new kid scooter for your birthday is in late November!
We gave them to the boys for their 3rd birthday and have LOVED them every since.  As they turned 4 years old and 5 years old, the kids scooters have logged tens of miles on the Bike Trail near our house.  They get pulled out at every playdate and party we've ever had, typically resulting in at least one argument over who gets one next (we have two, but when there are 8 kids all wanting a turn it gets harder).  While more expensive than other toddler scooters on the market ($75 vs $45 for some other cheaper brands), you certainly get FAR more for the extra money.  The top two reasons that set them apart:
We've been beating and abusing the Mini Kick Scooters for three plus years now and they are still going strong.
They were stable and easy to use from day one for a 3 year old toddler.  They turn by leaning on the handlebars which move the wheels slightly.  You can't sharply turn the handle bars and suddenly veer off the road or tip over like many other two and three wheel scooters.   We've had no major accidents or problems, unlike every time they've tried a two wheel scooter or other three wheel scooter that turn too fast.  Preventing just one fall is well worth the extra in my book.
Well, the boys turned 6 last year and are now over the 45 lbs weight limit on the Mini Kicks and won't be able to use them anymore.  So what to do for the scooter loving 5 year old, 6 year old, 7 year old, or 8 year old that you don't want riding a hard to control two wheeled scooter down a busy bike path in the summer?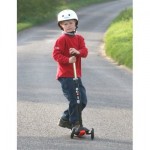 Kickboard USA to the rescue!  The company formerly known as "Micro" that is behind the Mini Kick recently released the Maxi Kick Scooter for kids 6-10 years old.  It appears to use the same steering technology that makes the Mini so great, but in a larger design that replaces handle bars with a really cool looking "pilot steering" stick rather than traditional handlebars.
Click here to get more details on the Maxi Kick Scooters.
You can check out their promo video below to see the Maxi Kick in action:
We've been speaking with Julie over at Kickboard USA and they're sending a couple of Maxi Kicks to us at the Toy Report to do a full review, as well as a Mini Kick for a giveaway to one lucky Toy Report reader!  Check back here for the Mini Kick giveaway and full Maxi Kick review, including videos of the Maxi scooters in action at the local kid scooter testing grounds (AKA the community tennis courts) and the real live six year old opinion.  Can't wait, they look awesome…
And remember, when using any riding toy, always wear proper head protection!  Helmets are a must.  Knee pads and elbow pads are always recommended as well.
Related Toy Reviews: